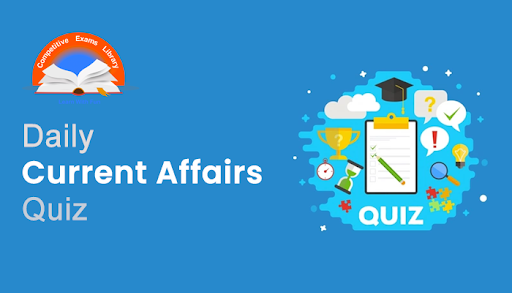 Dear Readers, Daily Current Affairs Questions Quiz for SBI, IBPS, RBI, RRB, SSC Exam 2021 of 07th & 08th March 2021. Daily GK quiz online for bank & competitive exam. Here we have given the Daily Current Affairs Quiz based on the previous days Daily Current Affairs updates. Candidates preparing for IBPS, SBI, RBI, RRB, SSC Exam 2021 & other competitive exams can make use of these Current Affairs Quiz.
1)  India Commemorates "Chabahar Day" on which of the following date?
A) March 1
B) March 3
C) March 4
D) March 5
E) March 7
2) EPFO board has recommended an unchanged ______ per cent interest on deposits for 2020-21.
A) 8.4
B) 8.3
C) 8.7
D) 8.5
E) 8.6
3)  Who among the following has launched the "CSIR Floriculture Mission"?
A) Amit Shah
B) Prahlad Patel
C) NS Tomar
D) Nitin Gadkari
E) Harsh Vardhan
4) Which of the following country is building the world's first platypus sanctuary to promote breeding and rehabilitation?
A) Japan
B) Switzerland
C) Australia
D) France
E) Germany
5) The Central government has constituted a National Committee headed by PM Modi to celebrate ______years of India's Independence commemoration
A) 85
B) 80
C) 100
D) 75
E) 50
6)  Who among the following has inaugurated the New Delhi World Book Fair 2021 – Virtual Edition?
A) NS Tomar
B) Ramesh Pokhriyal Nishank
C) Prahlad Patel
D) Narendra Modi
E) Amit Shah
7) Which of the following country is one of the top performers in land records digitisation?
A) Chhattisgarh
B) Uttar Pradesh
C) Bihar
D) Haryana
E) Madhya Pradesh
8) New Cultural Centre of the High Commission of India has been inaugurated by who among the following in Dhaka?
A) Amit Shah
B) Narendra Modi
C) S. Jaishankar
D) Prahlad Patel
E) NS Tomar
9) A UN report shows close to ______ million tonnes of food were wasted globally in 2019.
A) 1015
B) 931
C) 932
D) 850
E) 800
10) Reliance Power forms JV with Jera for ______ MW Project in Bangladesh.
A) 625
B) 630
C) 745
D) 645
E) 650
11) To Build a new school building under Nepal-Bharat Maitri Development Partnership – India has extended a grant of ______ million nepali rupees.
A) 40.50
B) 41.30
C) 42.15
D) 44.17
E) 43.50
12) The Women's Trap Team has won silver as India finishes year's first Shotgun World Cup with _____ medals.
A) 6
B) 5
C) 4
D) 3
E) 2
13) NPCI has joined hands with which bank to launch "RuPay SoftPoS" for merchants.
A) Axis
B) SBI
C) ICICI
D) HDFC
E) Yes
14) Which Bank will divest stake in JV ASREC India for asset reconstruction.
A) ICICI
B) SBI
C) Indian
D) Axis
E) Bandhan
15)  Which institution has successfully launched flight test SFDR technology?
A) HAL
B) BEL
C) BDL
D) DRDO
E) ISRO
16) Which edition of the India-Sweden Virtual Summit is being held recently?
A) 6th
B) 2nd
C) 3rd
D) 4th
E) 5th
17) The chief minister of which state has launched the AP Fact Check website and Twitter account?
A) Haryana
B) Bihar
C) Andhra Pradesh
D) Madhya Pradesh
E) Uttar Pradesh
18) Which of the following bank has appointed Indian-origin Naureen Hassan as its first VP, COO?
A) SBM
B) Federal Reserve Bank of New York
C) HSBC
D) Morgan Stanley
E) ICICI
19) Which country has announced names of 9 individuals to confer its highest civilian award 'Swadhinta Puraskar' ?
A) Japan
B) Germany
C) Bhutan
D) France
E) Bangladesh
20)  Which Ministry has signed an MoU with the Agriculture Ministry to amplify sericulture activities in the country?
A) S&T
B) Finance
C) Textile
D) Earth Sciences
E) Education
21)  Which state/UT has topped the medals tally at Khelo India Winter National Games in Gulmarg?
A) Bihar
B) J&K
C) Haryana
D) Punjab
E) Chhattisgarh
Answers:
1) Answer: C
India commemorated the 'Chabahar Day' on March 04, 2021 on the sidelines of the Maritime India Summit-2021 which was held from March 2-4, 2021.
The event was held virtually. Ministers from Afghanistan, Armenia, Iran, Kazakhstan, Russia and Uzbekistan participated in the event.
It is the only Iranian port with direct access to the Indian Ocean and the agreement was signed between India and Iran in 2018 for its development.
2) Answer: D
The Employees' Provident Fund Organisation (EPFO) has kept the interest rates unchanged on provident fund deposits at 8.5 per cent for financial year 2020-21.
This rate, the same as last year's, is the lowest offered by EPFO in eight years.
There were speculations that the EPFO would lower interest on provident fund deposits for this fiscal (2020-21) from 8.5 per cent given in 2019-20, owing to the coronavirus-induced slowdown through 2020.
The retirement fund body has more than 50 million active subscribers
The decision was taken at the Central Board of Trustees (CBT) meeting, which is the main decision-making body of EPFO.
The interest rate would be officially notified in the government gazette following which EPFO would credit the rate of interest into the subscribers' accounts
3) Answer: E
Dr Harsh Vardhan encouraged scientists of CSIR laboratories across the country to develop the land available at each laboratory to be set up as a model under the "CSIR Floriculture Mission".
CSIR Floriculture Mission has been approved for implementation in 21 States and Union Territories of India wherein available knowledge base in CSIR Institutes will be utilized and leveraged to help Indian farmers and industry reposition itself to meet the import requirements.
The CSIR Floriculture Mission is expected to create opportunities for entrepreneurship development in floriculture. Infusion of the latest technologies in the field of floriculture can be successfully led by CSIR.
The mission will focus on commercial floral crops, seasonal/annual crops, wild ornaments and  cultivation of flower crops for honey bee rearing. Some of the popular crops include Gladiolus, Canna, Carnation, Chrysanthemum, Gerbera, Lilium, Marigold, Rose, Tuberose etc.
This Mission is being implemented in collaboration with Indian Council of Agricultural Research (ICAR)-Directorate of Floriculture, Khadi and Village Industries Commission (KVIC), Agricultural and Processed Food Products Export Development Authority (APEDA), Ministry of Commerce, Tribal Cooperative Marketing Development Federation of India Ltd. (TRIFED), Fragrance and Flavour Development Centre (FFDC), Kannauj, Ministry of Micro, Small and Medium Enterprises (MSME) and Universities.
The Portal is to facilitate the public to submit the societal problems that can be resolved using S&T interventions.
4) Answer: C
Australian conservationists unveiled plans to build the world's first refuge for the platypus, to promote breeding and rehabilitation as the duck-billed mammal faces extinction due to climate change.
The Taronga Conservation Society Australia and the New South Wales State government said they would build the specialist facility, mostly ponds and burrows for the semi aquatic creatures, at a zoo 391 km (243 miles) from Sydney, by 2022, which could house up to 65 platypuses.
The new facility will promote breeding and rehabilitation of these iconic creatures, which are native to Australia.
5) Answer: D
The Government has constituted a National Committee headed by Prime Minister Narendra Modi to commemorate 75 years of India's Independence.
The committee has 259 members and includes dignitaries and eminent citizens from all walks of life.
It will provide policy direction and guidelines for formulation of programs for the commemoration of 75th anniversary of Indian Independence, at the national and international levels.
The 75 years of India's Independence falls on 15th August next year and celebrations are proposed to be launched 75 weeks prior to this date on 12th March this year.
12th March is the 91st anniversary of the historic Salt Satyagraha led by Mahatma Gandhi.
The Committee will hold its first meeting to discuss modalities relating to preparatory activities.
The Government intends to commemorate 75 years of India's Independence in a befitting manner at national and international level in the form of 'Azadi Ka Amrit Mahotsav'.
New Delhi World Book Fair 2021 inaugurated by Education Minister
6) Answer: B
Union Minister Ramesh Pokhriyal Nishank appreciated that 'National Education Policy-2020' is the theme of the book fair.
The Minister said it has emerged as the world's biggest reform.
He said, National Education Policy will develop India not only as the Knowledge hub but will also help in making learners ideal and global citizens.
The Minister congratulated National Book Trust and its entire team for holding the Virtual Edition of Book Fair.
7) Answer: E
Madhya Pradesh, West Bengal and Odisha are the best performing Indian states in land record digitisation, according to an annual land records index prepared by Delhi-based think-tank National Council of Applied Economic Research (NCAER).
The NCAER's Land Records and Services Index (NLRSI) 2020-21 released Thursday said nearly all states and union territories 29 out of 32 showed a gradual improvement in their efforts to digitise land records compared to the previous year.
The data was primarily collected on two aspects: the extent of digitisation of land records and the quality of these records.
Out of the 32 states and UTs ranked, only Assam and Lakshadweep Islands saw a decline in points from last year.
As a result, the mean N-LRSI score across the 32 states and UTs has shown an increase of 16.6 per cent in 2020-21, from 38.7 in 2019-20 to 45.1 in 2020-21 (out of the maximum score of 100 points).
8) Answer: C
A new cultural centre of the High Commission of India was inaugurated by the External Affairs Minister Dr. S. Jaishankar in Dhaka.
It is the second cultural centre of the High Commission of India after the Dhanmondi centre at the Indira Gandhi Cultural Centre in Dhaka.
The new cultural centre has facilities for conducting short term courses on Indian art forms and holding cultural programmes and art-exhibitions.
Inaugurating the cultural centre at the old India House Building Dr. Jaishankar said that the new centre will act as a centre of energy for the unique relations between India and Bangladesh.
He said that the shared cultural heritage of the two countries is the strength of their partnership.
Commending the opening of the second cultural centre, Dr. Jaishankar said that Dhaka is among the few cities in the world that hosts more than one Indian cultural centre.
9) Answer: B
The Food Waste Index Report 2021, from the United Nations Environment Programme (UNEP) and partner organisation WRAP, said that around 931 million tonnes of food waste was generated in 2019, sixty-one per cent of which came from households, 26 per cent from food service and 13 per cent from retail.
This suggests that 17 per cent of total global food production may be wasted.
In India, the household food waste estimate is 50 kg per capita per year, or 68,760,163 tonnes a year.
Sustainable Development Goal (SDG) target 12.3 aims at halving per-capita global food waste at the retail and consumer levels and reducing food losses along production and supply chains. One of the two indicators for the target is the Food Waste Index.
10) Answer: C
Anil Ambani-led Reliance Power has formed a joint venture with Japan-headquartered Jera Co. Inc to develop a new gas-fired power generation project in Bangladesh.
The company has achieved financial closure for the project with a group of lenders including Japan Bank for International Cooperation and Asian Development Bank and all requisite conditions for availing drawdown under the loan agreements have been achieved.
The project is to build, own, and operate a 745-MW (net output: 718 MW) natural gas combined-cycle power project in Meghnaghat near Dhaka.
Reliance Power's wholly-owned subsidiary Samalkot Power has received the approval from the Export Import Bank of the United States to sell one module of equipment to EPC contractor of the project Samsung C&T Corporation of South Korea for 1,540 crore.
11) Answer: D
India has extended a grant of 44.17 million Nepali Rupees to Nepal to build a new school building in Rupandehi district of the country under the Nepal-Bharat Maitri Development Partnership.
In a statement Indian Embassy in Nepal said, an Memorandum of Understanding (MoU) was signed between the two countries for the construction project.
Indian Embassy said that since 2003, under the High Impact Community Development Projects programme, India has completed 446 projects in the areas of health, education, drinking water, connectivity, sanitation and creation of other public utilities  across all seven provinces of Nepal.
12) Answer: E
India's Women's Trap team trio of Kirti Gupta, Manisha Keer and Rajeshwari Kumari won a silver medal on the concluding day of the year's first International Shooting Sport Federation (ISSF) World Cup Shotgun stage, in Cairo, Egypt, going down 4-6 to Russia in the final.
There were a total of seven 25-shot rounds, five of which had been shot in the previous days. On Thursday, all three Indian women shot scores of 20 or more in the final two qualifying rounds, with Manisha top-scoring for them with 158 out of 175 shots.
With this, the Indian team managed to collect two medals at the tournament. Earlier , the Men's Skeet team bagged a bronze medal.
13) Answer: B
National Payments Corporation of India (NPCI)  partnered with SBI Payments to announce the launch of 'RuPay SoftPoS' for millions of Indian merchants.
This innovative solution has the capability to transform NFC enabled smartphones into merchant Point of Sale (PoS) terminals for the retailers. Merchants will now be able to accept contactless payments of up to ₹5000 through a simple tap and pay mechanism on their smartphones.
RuPay SoftPoS will provide cost effective acceptance infrastructure to retailers at nominal cost. This unique phenomenon would be able to proliferate digital payment acceptance among millions of underserved Indian MSMEs.
Merchants can convert their existing android smartphone devices into a payment terminal by simply downloading a supported app.
This solution will revolutionize the way micro and small merchants receive payments and create a demarcated shift in their tendency to deal in cash to accepting secure, contactless digital payments instead.
14) Answer: C
State-owned Indian Bank will divest stake in joint venture entity ASREC (India) Ltd as part of asset monetisation exercise.
The bank holds a 38.26 per cent stake in ASREC (India) Ltd.
As part of the monetization of the bank's non-core assets, the board of directors of the bank in its meeting held on March 5, 2021, accorded in-principle approval for partial/full divestment of the bank's stake in joint venture ASREC (India) Ltd, Indian Bank said in a regulatory filing.
ASREC is an asset Reconstruction Company in which Bank of India, Union Bank of India, LIC and Deutsche Bank are the shareholders.
15) Answer: D
The Defence Research and Development Organisation (DRDO) has successfully tested a flight demonstration based on Solid Fuel Ducted Ramjet (SFDR) technology from the Integrated Test Range in Odisha's Chandipur.
The SFDR technology will help DRDO with the technological advantage to develop long-range air-to-air missiles (AAMs).
The performance of the missile was monitored using the data captured by Electro Optical, Radar and Telemetry instruments deployed by ITR and confirmed successful demonstration of the mission objectives.
The launch was monitored by senior scientists of various DRDO labs, including Defence Research & Development Laboratory (DRDL), Research Centre Imarat (RCI) and High Energy Materials Research Laboratory(HEMRL)
The High Energy Material Research Laboratory (HEMRL) has developed the nozzle-less booster while the ramjet engine is being developed with Russian assistance.
16) Answer: E
Prime Minister Shri Narendra Modi and Prime Minister of the King-dom of Sweden H.E. Stefan Löfven held a Virtual Summit where they discussed bilateral issues and other regional and multilateral issues of mutual interest.
This was the fifth interaction between the two leaders since 2015.
About the Summit :
Both the leaders underlined that the longstanding close relations between India and Sweden were based on shared values of democracy, rule of law, pluralism, equality, freedom of speech, and respect for human rights.
They reaffirmed their strong commitment to work for multilateral-ism, rules-based international order, counter terrorism and peace and se-curity.
They also acknowledged the growing salience of India's partnership with the European Union and EU countries.
The leaders also noted the growing member-ship of the India-Sweden joint initiative  the Leadership Group on Indus-try Transition (LeadIT) that was launched during the UN Climate Action Summit in September 2019 in New York.
The two leaders also discussed the Covid-19 situation including the vaccination drive and stressed the need for vaccine equity by providing urgent and affordable access to vaccines across all nations.
The two leaders reviewed the extensive ongoing engagement between India and Sweden, and expressed satisfaction at the implementation of the Joint Action Plan and Joint Innovation Partnership agreed during Prime Minister Modi's visit to Sweden in 2018. They explored avenues of further diversifying the themes under the rubric of these partnerships.
17) Answer: C
Andhra Pradesh Chief Minister Y.S .Jagan Mohan Reddy has launched the AP Fact Check website and Twitter account at his camp office.
The Chief Minister said that with malicious propaganda spread in the media and on social media, the State Government has launched the website in a bid to curb such false news.
He directed the authorities to take action against such half-truths.
He stressed on the need to identify where these campaigns originate and take legal action.
He said no one should spread misinformation to mislead people about the welfare schemes that the Government is taking seriously, and also about the institutions involved.
18) Answer: B
An Indian-origin veteran of the financial services industry has been appointed as the first vice president and chief operating officer of the Federal Reserve Bank of New York.
Naureen Hassan has been appointed by the board of directors of the Federal Reserve Bank of New York as the first vice president and chief operating officer, effective from March 15.
The appointment was approved by the Board of Governors of the Federal Reserve System, the Federal Reserve Bank of New York said in a statement.
19) Answer: E
Bangladesh has announced the names of 9 individuals and one organization for conferring the Independence Award, the highest civilian award of Bangladesh for the year 2021.
The Cabinet department of the government issued a press release.
Four individuals have been selected posthumously for the award under the category of freedom fighters for their contribution to the liberation war of Bangladesh.
These include A K M Bazlur Rahman, Ahsan Ullah Master, Brig Gen. Khurshid Uddin Ahmed and Akhataruzzaman Chowdhury Babu.Dr. Mrinmoy Guha Niyogi has been selected for his contribution to science and technology.
Mahadev Saha will be honoured with the award for literature while Ataur Rahman and Gazi Mazharul Anwar will get the award for their contribution in the field of Culture.
Dr.  M Amzad Hossain has been nominated for the award for social and public service.
In the category of organisations, the Bangladesh Agriculture Research Council has been nominated for research and training.
The award has been given since 1977 ahead of the Independence Day of Bangladesh.
The recipients of the award get a gold medal and a cash reward of Taka 5 lakh.
20) Answer: C
Ministry of Textiles and Ministry of Agriculture signed an MoU to amplify sericulture activities in the country in the presence of Textiles Minister Smriti Irani and Minister of State for Agriculture Parshottam Rupala.
The MoU will focus on establishing tree based agro-forestry models in sericulture and exploring possibilities of activities through Krishi Vigyan Kendras.
Ms Irani said it will enhance training, boost technology and create sustainable livelihood for silk farmers or rearers.
On the eve of International Women's Day, Ms Irani distributed Buniyaad Reeling Machines to women silk reelers with an aim to eradicate unhygienic and obsolete Thigh Reeling practice.
21) Answer: B
Union Territory of Jammu and Kashmir topped the medals tally in the second edition of Khelo India Winter National Games.
The five-day mega sports event which began on 26th of February, concluded in the famous ski resort of Gulmarg in north Kashmir's Baramulla district.
J&K won 11 gold, 18 silver and 5 bronze medals.
The event was e-inaugurated by Prime Minister Narendra Modi.
The event was organised by the Union Ministry of Youth Affairs and Sports in collaboration with the J&K Sports Council and the Winter Games Association of Jammu and Kashmir.
In the event, more than 1,000 athletes from 27 states and union territories took part.