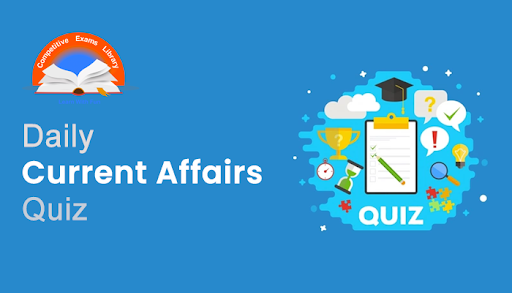 Dear Readers, Daily Current Affairs Questions Quiz for SBI, IBPS, RBI, RRB, SSC Exam 2021 of 09th March 2021. Daily GK quiz online for bank & competitive exam. Here we have given the Daily Current Affairs Quiz based on the previous days Daily Current Affairs updates. Candidates preparing for IBPS, SBI, RBI, RRB, SSC Exam 2021 & other competitive exams can make use of these Current Affairs Quiz.
1) International Women's Day is celebrated on which of the following date?
A) March 3
B) March 2
C) March 8
D) March 4
E) March 5
2) Which of the following country has observed the 50th anniversary of the historic Speech of Bangabandhu Sheikh Mujib?
A) Qatar
B) Iran
C) Vietnam
D) Bangladesh
E) Pakistan
3) PM Modi has inaugurated the ______ Janaushadhi Kendra at NEIGRIHMS, Shillong.
A) 6100th
B) 7400th
C) 6400th
D) 7300th
E) 7500th
4) India Science Research Fellowship (ISRF) 2021 has Announced _____ Scholars From Six Countries Awarded.
A) 30
B) 35
C) 40
D) 45
E) 50
5) A National Committee has been set up to commemorate ____ years of India's Independence to hold its first meeting.
A) 71
B) 72
C) 74
D) 75
E) 73
6) All Helpline numbers of Railways merged into a single number which is _____.
A) 131
B) 130
C) 139
D) 135
E) 133
7)  'MaitriSetu' connecting India and ______ has been inaugurated by PM Modi.
A) Sri Lanka
B) Nepal
C) Pakistan
D) Bangladesh
E) Bhutan
8) Temporary legal residency to Venezuelans has been offered in which of the following country?
A) UK
B) Japan
C) Germany
D) Denmark
E) US
9) Digital platform 'Jagrut Tripura' has been launched to boost e-governance. It will have at least _____ schemes of various departments.
A) 104
B) 103
C) 102
D) 101
E) 100
10) India's biggest Kidney Dialysis Hospital has been inaugurated in which city at Balasahib Gurudwara?
A) Chennai
B) Gwalior
C) Pune
D) Delhi
E) Surat
11) Uttarakhand CM has declared an amount of ______ each for ASHA, Anganwadi volunteers.
A) 15,000
B) 14,000
C) 13,000
D) 12,000
E) 10,000
12) Which of the following Securities company has launched a platform to make investment in bond, debenture hassle free?
A) BOI
B) UCO
C) PNB
D) Axis
E) SBI
13) Which of the following company has launched a new Business Kisht Suraksha to protect MFIs from natural calamities?
A) ICICI
B) Bank of India
C) HDFC Ergo
D) Axis
E) SBI
14)  Ishar Singh Deol Dies who passed away at 91 was a veteran ____.
A) Singer
B) Actor
C) Musician
D) Dancer
E) Athlete
15) Which country's has appointed transgender Tashnuva Anan appointed as newsreader?
A) UAE
B) Qatar
C) Bangladesh
D) US
E) China
16) WAN-IFRA has named who among the following as 'Champion Publisher of the Year 2020'?
A) ET
B) The Hindu
C) Indian Express
D) Lok Satta
E) HT
17)       _____ women achievers have recently bagged the Aarya awards.
A) 21
B) 22
C) 19
D) 20
E) 23
18) Who among the following has bagged the BBC Indian Sportswoman of the Year award?
A) Mithali Raj
B) Mary Kom
C) Sania Mirza
D) Koneru Humpy
E) Saina Nehwal
19) Which country has beaten England in the final Cricket Test match and Qualified for World Test Championship Final?
A) West Indies
B) Afghanistan
C) South Africa
D) Australia
E) India
20) M G George Muthoot who passed away recently was the chairman of which company?
A) Dhanlaxmi Bank
B) HCL
C) Muthoot
D) Bajaj Finance
E) Indian Airlines
21) N S Lakshminarayana Bhatta who passed Away at 84 was noted ____.
A) Dancer
B) Poet
C) Singer
D) Writer
E) Musician
22) Union Ministry of Women and Child Development signed an agreement with which institution in New Delhi?
A) UNIDO
B) UNICEF
C) CII
D) FICCI
E) Invest India
Answers:
1) Answer: C
The International Women's Day (IWD) is celebrated on March 8 every year, to celebrate the social, economic, cultural, and political achievements of women.
The theme for International Women's Day 2021 is 'Women in leadership: Achieving an equal future in a COVID-19 world'.
According to the UN Women website, it aims to 'celebrate the tremendous efforts by women and girls around the world in shaping a more equal future and recovery from the COVID-19 pandemic'.
The hashtags for the day will be #IWD2021 and #InternationalWomensDay.
The date of March 8 was chosen for the celebration as it marks the day when women in Soviet Russia started protests for the right to vote which they were granted in 1917.
The first National Woman's Day was observed in the United States on 28 February.1909.
The day was adopted in 1975 by the United Nations.
2) Answer: D
Bangladesh is observing the 50th anniversary of the historic speech given by Bangabandhu Sheikh Mujibur Rahman in Dhaka on 7th March 1971.
Prime Minister Sheikh Hasina paid tributes to Bangabandhu Sheikh Mujib by placing wreaths at his portrait in front of the Bangabandhu Memorial Museum at Dhanmondi in Dhaka.
Her younger sister Sheikh Rehana accompanied Prime Minister Hasina during the wreath-laying ceremony.
Bangabandhu Sheikh Mujibur Rahman had delivered the historic speech on this day in 1971 at the then Race Course Maidan which is now known as Suhrawardy Udyan.
He had declared before a huge crowd on that day that 'Ebarersongramamadermuktirsongram, ebarersangramswadhinatarsangram' meaning  'the struggle this time is for our freedom, the struggle this time is for our independence'.
UNESCO recognised this speech as part of World Documentary Heritage in 2017.
3) Answer: E
On March 07, 2021,Prime Minister Narendra Modi will address the 'JanaushadhiDiwas' celebrations via video conferencing.
The last day of the week which falls on 7th March is celebrated as 'JanaushadhiDiwas'.
The theme of JanaushadhiDiwas 2021 is "Jan Aushadhi – Sevabhi, Rozgar bhi".
The Prime Minister will dedicate to the nation the 7500th Janaushadhi Kendra at North Eastern Indira Gandhi Regional Institute of Health and Medical Sciences (NEIGRIHMS), Shillong during the event.
The celebrations are organised by the Bureau of Pharma PSUs of India (BPPI), the implementing agency of Pradhan Mantri Bhartiya JanaushadhiPariyojana (PMBJP).
In 2021, third JanaushadhiDiwas is being celebrated.
4) Answer: C
Forty scholars from six countries have been awarded with Indian Science Research Fellowship (ISRF) 2021.
The forty scholars will now have the opportunity to carry out their research in Indian institutes and universities.
These scholars have been selected based on research proposal, experience, academic merit and publication record and recommended for the award of ISRF 2021.
5) Answer: D
The National Committee set up to commemorate 75 years of India's Independence will hold its first meeting to discuss modalities relating to preparatory activities.
The 259 member committee headed by Prime Minister Narendra Modi will meet virtually.
The committee includes Union Ministers, Chief Ministers, Governors as well as leaders of different political parties including BJP President JP Nadda and Congress Chief Sonia Gandhi.
The Government has decided to commemorate 75 years of India's Independence in a befitting manner at National and International level in the form of Azadi Ka Amrit Mahotsav.
The National Committee includes dignitaries and eminent citizens from all walks of life including Artists, Sportspersons, Business leaders, Gandhians and media persons.
The committee will provide policy direction and guidelines for formulation of programs for the commemoration.
The 75 years of India's Independence falls on 15th August next year.
The celebrations are proposed to be launched 75 weeks prior to this date on 12th of this month.
12th March is the 91st anniversary of the historic Salt Satyagraha led by Mahatma Gandhi.
 6) Answer: C
Indian Railway has integrated all railway help lines into single number 139 which is Rail Madad Helpline for quick grievance redressal and enquiry during the journey.
As the new helpline number 139 will take over all the existing helpline numbers, it will be easy for the passengers to remember this number and connect with Railways for all their needs during the travel.
The Ministry of Railways in a statement said that various Railway grievances helplines were discontinued last year and now, Helpline number 182 would also be discontinued from 1st of April, 2021 and will be merged into 139.
The Helpline 139 will be available in twelve languages and passengers can opt for Interactive Voice Response System- IVRS or directly connect to call-centre executives by pressing the asterisk button.
There is no need for a smart phone to call on 139.
7) Answer: D
Prime Minister Narendra Modi will inaugurate MaitriSetu between India and Bangladesh through video conferencing.
Mr Modi will also inaugurate and lay the foundation stone of multiple infrastructure projects in Tripura during the event.
The bridge MaitriSetu has been built over Feni River which flows between Indian boundary in Tripura State and Bangladesh.
The name MaitriSetu symbolizes growing bilateral relations and friendly ties between India and Bangladesh.
The construction was taken up by the National Highways and Infrastructure Development Corporation Limited at a project cost of 133 Crore rupees.
The 1.9 Kilometres long bridge joins Sabroom in India with Ramgarh in Bangladesh.
It is poised to herald a new chapter for trade and people to people movement between India and Bangladesh.
With this inauguration, Tripura is set to become the Gateway of North East with access to Chittagong Port of Bangladesh, which is just 80 Kilometres from Sabroom.
8) Answer: E
The United States has announced to offer temporary legal residency to several hundred thousand Venezuelans who fled their country due to economic collapse.
The White House announced that the US will also review US sanctions intended to isolate the South American nation.
Both measures mark a shift from U.S. policy toward Venezuela under President Donald Trump.
President Joe Biden's administration announced it would grant temporary protected status to Venezuelans already in the United States, allowing an estimated three lakhs 20 thousand people to legally live and work in the country for 18 months.Citizens of 10 countries, totaling about 400,000 people, are in the United States now with temporary protected status.
The largest number comes from El Salvador, Honduras and Haiti, many with U.S. citizen children and spouses
9) Answer: C
The Tripura government has come up with a digital platform to help people get benefits from various schemes of the Centre and the state government.
The project was developed by EasyGov, a Jio Group company, and it will be available to all the residents of Tripura.
It will have At least 102 schemes of various departments of both the governments available on the platform.
The digital platform is one of the many proactive initiatives undertaken by the state government to spur a technology-led innovation ecosystem to make 'Atmanirbhar' (self-reliant) Tripura.
"With 'Jagrut', we want to empower people to get the benefits they deserve, and the focus is on building a family- centric, progressive model having 'one data one source' and privacy at the core.
10) Answer: D
India's biggest Kidney Dialysis Hospital was inaugurated at Balasahib Gurudwara in Delhi.
The Guru Harkrishan Institute of Medical Sciences and Research Kidney Dialysis Hospital has been opened by Delhi Sikh Gurdwara Management Committee.
The 100 bedded hospital is equipped with most technically advanced medical facilities where services will be provided free of cost to the patients.
There will also be no billing counter at the hospital.
11) Answer: E
Chief Minister Trivendra Singh Rawat has announced Rs Ten thousand each for ASHA and Anganwadi volunteers, who had worked during the Covid 19 phase on the occasion of International Women Day.
He also announced Rs. 15000 for each of the Mahila Mangal Dal and women self-help groups.
The Chief Minister virtually attended the function and addressed the gathering in Gairsain in Chamoli district and said that empowerment of women is extremely important for the all-around development of the society and the state.
The Chief Minister said that during his four years in power, he had taken several steps for the welfare of women.
12) Answer: D
Axis Securities  announced the launch of 'YIELD' – an online platform to buy and sell bonds as well as debentures in the secondary market.
YIELD is the first-of-its-kind initiative that allows retail investors direct access to the debt instruments.
This removes the hassle of filling up physical forms or the need for separate KYC with the bond institutions.
To facilitate transactions only in secure options, it aggregates only 'AAA' to 'A' rated quality debt instruments available for investment in the secondary market.
A seamless online platform that gives retail investors access to bonds available earlier only to the large corporations, family offices, or HNIs.
Investing in bonds through YIELD is the answer to the investors seeking new alternative investment avenues for safe and relatively higher returns.
13) Answer: C
HDFC ERGO General Insurance has introduced Business KishtSuraksha  a unique cover aimed at protecting the balance sheet of MFIs, financial institutions and banks in the event of a catastrophe or natural disaster.
It aims to limit the impacts on the balance sheet of financial institutions, due to non-payment of EMIs by borrowers, resulting out of listed calamities such as floods, earthquakes, cyclones, etc.
Business Kisht Suraksha aims to address these concerns by indemnifying against these climatic changes whilst also protecting financial institutions from rising NPAs occurring due to the impact of natural disasters.
Business Kisht can be customised as per the needs of an individual MFI or financial institution.
The product can also be tailor-made depending on the geographical presence of the borrower, MFI or any financial institution basis the perils/climatic conditions that the location is prone to.
14) Answer: E
Veteran Indian athlete Ishar Singh Deol, a recipient of the Dhyan Chand National Sports Award, has died at the age of 91.
Deol had won many medals for the country and the state since 1951 and was awarded the Dhyan Chand National Award in 2009 for his lifelong contribution towards sports.
Deol had competed in the first three Asian Games and won a bronze medal in the second Asian Games held in Manila, the Philippines in 1954.
15) Answer: C
A private news channel has appointed Bangladesh's Tashnuva Anan first transgender newsprsenter.
Tashnuva Anan Shishir will start presenting news for Boishakhi TV from the International Women's Day on March 8.
This was announced by the TV news channel.
The TV channel has appointed another transgender Nusrat Mau as one of the main characters for the regular drama section of the TV channel's entertainment wing.
The Bangladesh government has taken several steps to ensure the dignity and rights of the transgender persons.
They have been given the right to vote and stand in elections. Government provides an allowance to a large number of transgenders in the country.
However, they suffer from social stigma and discrimination and remain one of the most marginalised and violated groups in the country.
Tashnuva Anan is a model and actor who began her career in theatre group Natua in 2007.
She has been actively associated with theatre in Bangladesh with appearances in many popular productions.
16) Answer: B
The Hindu Group won two golds and two silvers at WAN IFRA's South Asian Digital Media Awards, culminating in being named 'Champion Publisher of the Year', owing to the highest tally on the points table.
The awards are presented in recognition of outstanding work done by news publishers, in digital media.
The winners were honoured virtually at the Digital Media India 2021 Conference.
About WAN-IFRA :
The World Association of News Publishers or WAN-IFRA, is a global organisation of the world's press, with a network of 3,000 news publishing companies and technology entrepreneurs, and 60 member publisher associations representing 18,000 publications in 120 countries.
South Asian Digital Media Awards are presented in 10 different categories.
Twenty judges from across the globe evaluated the entries and chose the winners.
17) Answer: C
As many as 19 women achievers from different fields were felicitated at the 9th edition of Aarya Awards here to mark the International Women's Day.
Organised by city-based philanthropic organisationParichay Foundation, the event was inaugurated by Speaker Surjya Narayan Patro in presence of Kathak exponent Shovana Narayan, Kandhamal MP AchyutaSamanta, former MP Prasanna Patasani and OSHB chairperson Priyadarshi Mishra.
18) Answer: D
Chess player Koneru Humpy won the BBC India Sportswoman of the Year award for 2020.
The award was based on a public vote in which Humpy beat sprinter Dutee Chand, shooter Manu Bhaker, wrestler VineshPhogat and hockey captain Rani Rampal.
"Being an indoor game, chess doesn't get as much attention as sports like cricket gets in India.
But with this award, I hope the game will draw people's attention," she said after winning the honour.
19) Answer: E
India defeated England in the final Cricket test match at Ahmedabad  to enter the final of the inaugural edition of the World Test Championship.
The hosts won the fourth and final Test comprehensively by a margin of an innings and 25 runs.
Australia have now been eliminated from the ICC World Test Championship.
India made 365 runs in their first innings.
India deserved to be in the final being at the top with 520 points.
India will face New Zealand in the final of the ICC World Test Championship at Lord's between June 18 and June 22.
20) Answer: C
MG George Muthoot, the Chairman of Muthoot Group of Companies, died in New Delhi. He was 71.
He became the Managing Director of the Muthoot Group in 1979 and its Chairman in 1993.
Muthoot Finance is India's largest gold loan company with over 5,000 branches.
He was also a member of the National Executive Committee of the FICCI and the Chairman of the FICCI Kerala state council.
According to Forbes India's Richest List, the Forbes Asia Magazine listed him as the 50th richest man in India in 2011, and in 2019, his ranking climbed to 44th richest in India.
21) Answer: B
Noted Kannada poet, critic, and translator N S Lakshminarayana Bhatta passed away. He was 84.
Popularly known as 'NSL' in Kannada literary world, he was born in 1936 in Shivamogga district.
He is known for his contribution to modern Kannada poetry, critical works and translations.
He had translated about 50 of William Shakespeare sonnets, the poetry of T S Elliot and works of poet Yeats into Kannada.
A recipient of Karnataka Sahitya Akademi award and Kannada Rajyotsava Award among others, his popular works include "Thayeninnamadilali".
22) Answer: E
Union Ministry of Women and Child Development signed an agreement with Invest India in New Delhi to enhance cooperation.
The aim of the Memorandum of Understanding (MoU) is to enhance co-operation in the thematic areas of Nutrition, Child Protection and Development, Women Empowerment and convergent capacity building in mission mode.
It was signed by joint Secretary in the Ministry Aditi Das Raut and Vice President, Invest India, Hindol Sengupta.
To formulate, design and conduct strategic research for the Ministry, DRISHTI under Invest India will conduct input and output analysis research, and other research as per requirement including coordinating with research agencies for primary, secondary and tertiary research.