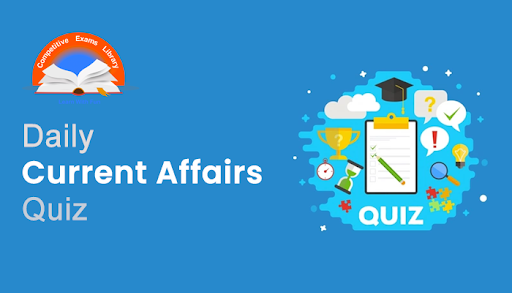 Dear Readers, Daily Current Affairs Questions Quiz for SBI, IBPS, RBI, RRB, SSC Exam 2021 of 09th April 2021. Daily GK quiz online for bank & competitive exam. Here we have given the Daily Current Affairs Quiz based on the previous days Daily Current Affairs updates. Candidates preparing for IBPS, SBI, RBI, RRB, SSC Exam 2021 & other competitive exams can make use of these Current Affairs Quiz.
1) CRPF Valour Day is observed on which date?
A) April 1
B) April 2
C) April 9
D) April 4
E) April 5
2) Fatima R Zakaria who passed away recently was a renowned ____.
A) Producer
B) Journalist
C) Musician
D) Actor
E) Director
3) India along with which country's Friendship Car Rally has been flagged off by Union Minister Dr. Jitendra Singh flags?
A) China
B) Israel
C) France
D) Russia
E) Germany
4) Who among the following has recently inaugurated the SARTHAQ initiative?
A) Amit Shah
B) Nitin Gadkari
C) Narendra Modi
D) S Jaishankar
E) Ramesh Pokhriyal Nishank
5) PM Modi recently held a Virtual Summit with his _______counterpart to discuss ways to strengthen the relationship.
A) Israel
B) Netherlands
C) France
D) Japan
E) Germany
6) Pradhan Mantri Mudra Yojana recently marked the ______ year of completion.
A) 9
B) 7
C) 6
D) 5
E) 8
7) Who among the following has been elected as new President of Kosovo?
A) Isa Mustafa
B) Avdullah Hoti
C) Hashim Thaçi
D) Vjosa Osmani
E) Albin Kurti
8) Over Rs. _______ crore has been sanctioned for augmenting healthcare facilities in North East States.
A) 450
B) 400
C) 350
D) 300
E) 250
9) Who among the following was honoured with an international ranger award?
A) Narayan Rane
B) Nitin Kashyap
C) S Satish
D) Ramesh Singh
E) Anand Gupta
10) Which of the following cricketer has been nominated for the ICC 'Player of the Month'?
A) Rajeshwari Gayakwad
B) Ishant Sharma
C) Kuldeep Yadav
D) Bhuvneshwar Kumar
E) Mohd. Shami
11) Byju's will acquire Aakash Educational Services for $___ billion.
A) 3
B) 2.5
C) 2
D) 1.5
E) 1
12) Which regulatory body has approved the proposed combination relating to acquisition of PAMPL, PTCPL & PRAPL by SAMC?
A) NABARD
B) CCI
C) RBI
D) SEBI
E) NHB
13) Narendra Singh Tomar has launched the Madhukranti portal and Honey Corners of NAFED in which city?
A) Chandigarh
B) Surat
C) New Delhi
D) Pune
E) Chennai
14) Who among the following has launched the 'MyNEP2020' Platform for Digital Consultation?
A) Narendra Modi
B) NS Tomar
C) Amit Shah
D) Ramesh Pokhriyal
E) Prahlad Patel
15) Which of the following wrestler has recently been inducted in the WWE Hall of Fame 2021?
A) Kane
B) Andre the Giant
C) Mark Henry
D) Big Show
E) The Great Khali
16) Chandra Nayudu who passed away recently was an eminent _____.
A) Director
B) Actor
C) Commentator
D) Cricketer
E) Singer
Answers :
1) Answer: C
Central Reserve Police Force (CRPF) Valour Day (Shaurya Diwas) is observed on 9 April every year, as a tribute to the brave men of the Force.
2021 marks 56th CRPF Valour Day.
It was on this day in 1965, a small contingent of CRPF created history by defeating an invading Pakistani army, several times larger, at the Sardar Post located in the Rann of Kutch, Gujarat.
The CRPF men eliminated 34 Pakistani soldiers and captured four alive.
In the conflict, CRPF lost six personnel who had attained martyrdom.
The Prime Minister Shri Narendra Modi has saluted CRPF personnel, on its Valour Day .
Prime Minister said, "The courage of CRPF is widely known. On CRPF Valour Day, I salute this brave force and remember the bravery of our CRPF personnel in Gujarat's Sardar Patel Post in 1965.
2) Answer: B
On April 06, 2021, Veteran Renowned Journalist-author Fatima R Zakaria passed away.
She was 85.
About Fatima R Zakaria :
She is the former Editor of the Sunday Times, Mumbai.
She is the mother of a renowned global media personality.
She was the chairman of Maulana Azad Educational Trust and Khairul Islam Trust Mumbai.
Fatima R Zakaria was also the executive vice-chairman of the Board of Governors of the Trust's Institute of Hotel Management
It is run in collaboration with the Taj Group of Hotels.
3) Answer: D
Minister of State in PMO Dr. Jitendra Singh flagged off India Russia Friendship Car Rally 2021.
The event was organized by International Friendship Car Rally Association, IFCRA in New Delhi.
The Car rally will take place in Russia from 18th to 20th April.
This is the 5th IFCRA edition and there are 14 participants from IFCRA India representing the North East.
Dr Singh said that Russia has been a reliable partner of India and joint sporting events will further strengthen the bonds of friendship.
He said that diplomatic, social and cultural ties with Russia scaled new heights under Prime Minister Narendra Modi.
The Minister hoped that participants from the North East region in this event will further add to growing bilateral ties.
4) Answer: E
Education Minister Ramesh Pokhriyal Nishank launched an initiative SARTHAQ which will help in the implementation of National Education Policy in the country.
The students and teachers' holistic advancement through quality education, SARTHAQ has been initiated as a part of the Amrit Mahotsav celebrations.
The Education Minister said it will pave the way for the children and youths to meet the diverse national and global challenges.
He said it will also help them to imbibe 21st century skills, indian tradition, culture and value system as envisioned in National Education Policy.
He said, the implementation of SARTHAQ would benefit all stakeholders including 25 crore students, 15 lakh schools, 94 lakh teachers.
He urged all the stakeholders to use this plan as a guiding light to undertake transformational reforms in the school education sector.
The Minister chaired a high level meeting on implementation of National Education Policy.
Secretary, Higher Education, Amit Khare and other officials were present in the meeting.
5) Answer: B
Prime Minister Narendra Modi will hold a Virtual Summit with his Netherlands counterpart Mark Rutte.
During the Summit, the two leaders will discuss in detail the bilateral cooperation and look at new ways of strengthening the relationship.
They will also exchange views on the regional and global issues of mutual interest.
The Summit follows the recent victory of Prime Minister Rutte in the parliamentary elections and will sustain the momentum in the bilateral relationship provided by regular high-level interactions.
India and the Netherlands share cordial and friendly relations underpinned by shared values of democracy, rule of law and freedom.
The Netherlands is home to the largest Indian diaspora in continental Europe.
6) Answer: C
Pradhan Mantri MUDRA Yojana has completed six years.
It is a scheme under which loans of upto 10 Lakh rupees are provided to the non-corporate, non-farm, small and micro enterprises.
Pradhan Mantri MUDRA Yojana was launched on 8th April 2015.
In these years, More than 28 crore 68 lakh loans have been sanctioned.
The amount of these loans is around 15 lakh crore rupees with about 52,000 rupees being the average ticket size of the loans.
Finance Ministry has said that under this scheme almost 24percent of loans have been given to new entrepreneurs; about 68 percent of loans have been given to women entrepreneurs and about 51percent of loans have been given to SC, ST and OBC borrowers.
Ministry of Labour and Employment has said that this yojana has helped in generation of 1 crore 12 lakh net additional employment from 2015 to 2018.
Women have accounted for 62 percent of this estimated increase in employment.
7) Answer: D
The U.S. educated female law professor Vjosa Osmani has been elected as the new President of Kosovo.
The 38-year-old candidate of the ruling Vetevendosje party has been sworn in as the seventh president of the country for a period of five-year-term.
She is the second female leader, in the post-war period of Kosovo.
Previously, Osmani was acting president of the country between November 2020 and March 2021 and the speaker of the Assembly of Kosovo from February 2020 to March 2021.
About Kosovo:
Capital: Pristina
Currency: Euro
8) Answer: E
Minister of State for Development of North Eastern Region, DoNER Dr. Jitendra Singh has said that more than Rs. 250 crore had been sanctioned for augmenting healthcare facilities in the North-Eastern States for effective management of COVID-19.
Chairing a meeting of the Parliamentary Consultative Committee for the Ministry of DoNER in New Delhi, Dr Singh said that the fund has greatly helped in developing infrastructure for management of COVID-19 and other infectious diseases.
9) Answer: C
Ramanathapuram Forest Range Officer S Sathish was honoured with the International Ranger Award.
The award was jointly announced by the International Union for Conservation of Nature (IUCN), World Commission on Protected Areas (WCPA), International Ranger Federation (IRF), Global Wildlife Conservation and Conservation Allies.
He is one of the 10 recipients of the first edition of the award.
Sathish was nominated for the award by a senior scientist from Wildlife Institute of India K Siva Kumar, for his efforts in conserving the Gulf of Mannar National Park.
The IUCN, during a virtual event, announced the list of 10 awardees under the category 'International Ranger Award' from across the globe.
The winners were chosen among 600 entries received from forest rangers in various countries.
10) Answer: D
Experienced India seamer Bhuvneshwar Kumar was among the cricketers nominated for the ICC 'Player of the Month' award for March following his standout performances in the limited overs matches against England.
The ICC announced the nominees to recognize the best performances from both male and female cricketers across all forms of international cricket.
Besides Bhuvneshwar, the others in the men's category included ace leg-spinner Rashid Khan of Afghanistan and Zimbabwe's Sean Williams.
The nominees among the women's comprised Rajeshwari Gayakwad of India, South Africa's Lizelle Lee and India's Punam Raut.
Last month, Bhuvneshwar played three ODIs against England where he took 6 wickets with an economy rate of 4.65.
He also went on to play five T20Is against them where he took 4 wickets with a fantastic economy rate of 6.38.
He was the standout bowler on either side in the white ball series between India and England.
11) Answer: E
On April 05,2021, The country's most valued online education firm, Byju's, acquired Blackstone Group-backed Aakash Educational Services (AESL) for an estimated $1 billion cash and stock deal.
Byju's aims to grow aggressively and bolster its presence across new edtech categories in India.
Byju's had acquired Aakash Educational Services Ltd (AESL) for about $1 billion, to enter the competitive test preparation market, where it competed with Unacademy and Amazon India.
Unacademy had acquired six test prep platforms, while Amazon India forayed into the segment with Amazon Academy.
12) Answer: B
On April 06, 2021, The Competition Commission of India (CCI) approved the proposed combination relating to acquisition of Principal Asset Management Private Limited, Principal Trustee Company Private Limited and Principal Retirement Advisors Private Limited by Sundaram Asset Management Company Limited.
It relates to the acquisition of 100% of the issued and paid- up equity share capital.
13) Answer: C
On April 07, 2021, The Union Minister of Agriculture and Farmers' Welfare Narendra Singh Tomar launched Madhukranti portal and Honey Corners of National Agricultural Cooperative Marketing Federation, NAFED in New Delhi.
Madhukranti portal is an initiative of National Bee Board
It is under the National Beekeeping and Honey Mission.
MoU between the National Bee Board and Indian Bank was signed for this project.
Indian Bank is the technical and banking partner for the development of the digital platform.
Honey Corner is a specially designed space in National Agricultural Cooperative Marketing
Federation of India Ltd (NAFED) stores dedicated to sale of honey.
14) Answer: D
Union Education Minister Ramesh Pokhriyal 'Nishank' launched the "MyNEP2020" Platform of the National Council for Teacher Education (NCTE).
MyNEP 2020 Web Portal  of the NCTE will be operational from April 1 to May 15, 2021.
15) Answer: E
On April 07, 2021, The Great Khali was inducted into the WWE Hall of Fame Class of 2021.
About Great Khali :
He is India's one-time World Heavyweight Champion.
The official name of "The Great Khali" is Dalip Singh Rana.
He is arguably the biggest Indian wrestling star.
He is 7'1″ tall.
Khali is the first Indian world champion in WWE.
He made his professional wrestling debut in 2000.
16) Answer: C
India's first female Cricket commentator Chandra Nayudu has passed away.
She was 88.
About Chandra Nayudu
She was the daughter of former cricketer CK Nayudu.
She was a professor of English at the local Govt Degree College, Indore.
She took an active interest in the game and was the first lady commentator of an international match.
Chandra was an active member of the MPCA and took part in many of its activities.
Chandra was a very good Hindi commentator and first commentated in the MCC v Bombay game in the 1976-77 season.
She wrote a book titled, "CK Nayudu: A Daughter Remembers", in 1995.