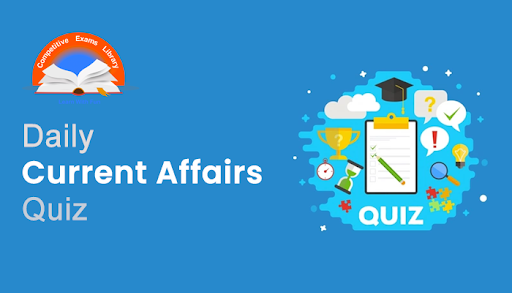 Dear Readers, Daily Current Affairs Questions Quiz for SBI, IBPS, RBI, RRB, SSC Exam 2021 of 10th April 2021. Daily GK quiz online for bank & competitive exam. Here we have given the Daily Current Affairs Quiz based on the previous days Daily Current Affairs updates. Candidates preparing for IBPS, SBI, RBI, RRB, SSC Exam 2021 & other competitive exams can make use of these Current Affairs Quiz.
1) ICCR 71st Foundation Day is observed on which of the following date?
A) April 1
B) April 3
C) April 9
D) April 4
E) April 5
2) What is the theme of the 2 day scientific conference on the occasion of World Homoeopathy Day?
A) Homeopathy for a better life
B) Homeopathy – The Way Ahead
C) Homeopathy and Better Living
D) Homoeopathy – Roadmap for Integrative Medicine
E) Homeopathy and You
3) PM Modi has recently made the virtual summit with his Counterpart from which countryfor a supply chain in the Indo-Pacific region?
A) Germany
B) France
C) China
D) Japan
E) Netherlands
4) Which institution has recently unveiled an Online Dispute Resolution handbook?
A) IFFCO
B) ASSOCHAM
C) NITI Aayog
D) CII
E) FICCI
5) Who among the following has held talks with Defence Minister of Kazakhstan Lieutenant General NurlanYermekbayev?
A) Amit Shah
B) NS Tomar
C) Narendra Modi
D) Rajnath Singh
E) Prahlad Patel
6) ____ sailors from India have qualified for Tokyo Olympics 2021.
A) 7
B) 5
C) 6
D) 3
E) 4
7) ICCR Foundation Day has been marked at Indian Embassy in which country?
A) Israel
B) France
C) South Korea
D) Japan
E) Germany
8) Surveyors' Day has been Observed on which date?
A) April 14
B) April 11
C) April 12
D) April 10
E) April 13
9) Jeep India and which Bank have jointly launched the Jeep Financial Services?
A) Bandhan
B) HDFC
C) ICICI
D) SBI
E) Axis
10) Finance Minister has virtually attended the _____ Development Committee Meeting of World Bank-IMF,
A) 105th
B) 104th
C) 103rd
D) 102nd
E) 101st
11) Who among the following will present at BAFTA awards 2021?
A) Akshay Kumar
B) ManushiChillar
C) KareenKapoor Khan
D) Priyanka Chopra Jonas
E) DiaMirza
12) Wipro has appointed who among the following as the CTO?
A) Raj Mehta
B) SubhaTatavarti
C) Narendra Kumar
D) SubashVerma
E) AnandTiwary
13) HDFC will acquire ______ per cent stake in Kerala-based asset management firm.
A) 12
B) 11.5
C) 11
D) 10.5
E) 9.9
14) To boost Seychelles' maritime security India has gifted _____ crores  patrol vessel PS Zoroaster.
A) 80
B) 90
C) 100
D) 120
E) 110
15) World Homeopathy Day is Observed on which of the following date?
A) April 3
B) April 4
C) April 7
D) April 10
E) April 8
16) A New Book Akhtari is based on the life of which of the following?
A) IshtiaqAbbasi
B) Farida Khannum
C) MohmmadZahur
D) KaifiAzmi
E) Begum Akhtar
17) Education Minister Ramesh Pokhriyal has launched _______, a microsensor based explosive trace detector.
A) NanoSanitize
B) NanoSilk
C) NanoSniffer
D) NanoBuzz
E) NanoSpray
Answers :
1) Answer: C
The Indian Council for Cultural Relations (ICCR) is celebrating its 71st Foundation Day on April 09.
Swami Vivekanand Cultural Centre at Indian Embassy in Beijing celebrated ICCR Foundation Day on April 09.
In the presence of a huge gathering of ICCR scholars in China and their disciples who learnt Indian dance and music.
The ICCR has unveiled 'Little Guru' app, world's first Gamified Sanskrit learning App which was jointly launched in Beijing by Ambassador VikramMisri and renowned Chinese scholar on Sanskrit and India studies, Professor Wang Bangwei.
Many Sanskrit Professors from Peking University and the students were also present.
Ambassador VikramMisri highlighted ICCR's role in promoting cultural, academic and intellectual exchanges between India and the rest of the world.
He said nearly 300 students in China in the last few years have availed ICCR scholarships and hoped that more Chinese students will avail of these scholarships.
2) Answer: D
The Central Council for Research in Homoeopathy (CCRH), Ministry of AYUSH, organized a two day scientific conference on the occasion of #WorldHomoeopathyDay from April 10 & 11, 2021 in New Delhi.
The theme of the conference is "Homoeopathy – Roadmap for Integrative Medicine"
Objective:  exchange of experience by policy makers and experts to identify strategic actions towards an effective and efficient inclusion of Homoeopathy in integrative care.
3) Answer: E
Prime Minister Narendra Modi has said that India and the Netherlands are working together for a supply chain in Indo-pacific region.
Holding the Virtual Summit with the Prime Minister of the Netherlands Mark Rutte, MrModi mentioned, the relationship between the two countries is based on the shared values of democracy and rule of law.
He said, they are also developing convergence in new areas like Indo-Pacific resilient supply chains and global digital governance.
MrModi added that establishment of a fast track mechanism for investment promotion also gives new momentum to strong economic cooperation between the two countries.
He expressed confidence that post covid period many news opportunities will be generated in which like-minded countries can enhance mutual collaborations.
4) Answer: C
NITI Aayog will launch the first-of-its kind Online Dispute Resolution (ODR) handbook in India.
ODR is the resolution of disputes outside courts, particularly of small and medium-value cases, using digital technology and techniques of alternate dispute resolution such as negotiation, mediation, and arbitration.
Supreme Court Judge, Justice D Y Chandrachud will deliver the opening address and launch the handbook.
5) Answer: D
Defence Minister Rajnath Singh held a meeting with the Defence Minister of Kazakhstan Lieutenant General NurlanYermekbayev in New Delhi.
During the meeting, the two Ministers exchanged views to further strengthen bilateral defence cooperation in various fields.
They agreed that both sides must look at the possibility of defence industrial collaboration of mutual interest.
The Defence Minister of Kazakhstan thanked Rajnath Singh for the opportunity given to the Kazakh troops for deployment as part of the Indian battalion in the United Nations Interim Force in Lebanon.
Chief of Defence Staff General BipinRawat, Chief of Naval Staff Admiral Karambir Singh, Defence Secretary Dr Ajay Kumar, Secretary (Defence Production) Raj Kumar and other officials were also present in the meeting.
6) Answer: E
In a historic first for the country, Four Indian sailors qualified for the upcoming Tokyo Olympics.
The pair of GanapathyChengappa, VarunThakkar, and Vishnu Saravanan made the cut during an ongoing Asian Qualifiers in Oman on April 8, 2021.
This was after NethraKumanan on April 7 became the first Indian woman sailor to qualify for the Olympics in the laser radial event in the Mussanah Open Championship.
It is an Asian Olympic Qualifying event.
7) Answer: C
ICCR Foundation Day was celebrated at Indian Embassy in Seoul, South Korea.
Ambassador SripriyaRanganathan, highlighted the role of ICCR in promotion of Cultural Diplomacy and India's Soft Power.
She said, over the years, ICCR has worked to propagate an image of India that augments its natural historical appeal, boosting cultural diplomacy and foreign policy" mentioned Ambassador Ranganathan.
Dr. VinaySahasrabuddhe, President, ICCR noted, "During the last over 6 years, ICCR has received a new thrust under the guidance of Hon'ble Prime Minister Shri Narendra Modi who has shown keen interest to build onto India's 'soft' power strengths".
8) Answer: D
10th April is celebrated as 'Survey Day' throughout India.
This day has a special significance in the History of Surveying as it is on this day that Major William Lambton started the GTS(Great Trigonometrical Survey) and the work of measurement of Great Arc from the Cape Comorin to Bangalore, on 10th April, 1802.
The method of measurement through triangulation was conceived by the EIC officer William Lambdon and later under his successor George Everest, it became the responsibility of the Survey of India.
One of the greatest accomplishments of the trigonometric survey was the measurement of Mount Everest, K2 and Kanchenjunga.
9) Answer: E
Jeep India has tied up with Axis Bank to launch Jeep Financial Services, which will curate financial solutions for Jeep customers and Jeep brand dealers.
"Formation of this entity strategically supports the anticipated growth in Jeep India's business and a consequent rise in its customer base," the two companies mentioned in the statement.
Jeep brand dealers will also benefit from this partnership as they will enjoy special interest rates and will contribute to a more seamless retail process, the statement further mentioned.
Axis Bank and Jeep India will get access to each other's growing customer database.
Jeep customers will be serviced from the bank's 4,586 branches spread across India and also via on-site counters at high footfall Jeep brand dealerships.
10) Answer: C
On April 09, 2021, Union Minister for Finance & Corporate Affairs Smt. Nirmala Sitharaman participated in the 103rd Meeting of the Development Committee through video conferencing.
The items on the agenda :
WBG and International Monetary Fund Support for Debt Relief Under the Common Framework and Beyond.
COVID-19 pandemic: World Bank Group Support for Fair and Affordable Access to Vaccines by Developing Countries
From COVID-19 Crisis Response to Resilient Recovery – Saving Lives and Livelihoods while Supporting Green, Resilient and Inclusive Development (GRID).
The Government has announced AatmaNirbhar Packages of ₹ 27.1 trillion, amounting to more than 13 percent of the GDP. These packages were meant not only to provide social protection to the poor and vulnerable but also to push forward the economic reforms.
11) Answer: D
Actor-producer Priyanka Chopra Jonas has been announced as one of the presenters for the 74th British Academy of Film and Television Arts (BAFTA) Awards.
The annual award ceremony, which has been delayed from its usual February date due to the coronavirus pandemic, is scheduled to take place on April 10 and 11 at the Royal Albert Hall here.
Chopra Jonas will be joined by other presenters, which include Phoebe Dynevor, ChiwetelEjiofor, Cynthia Erivo, Hugh Grant, Richard E Grant, Tom Hiddleston, Felicity Jones, GuguMbatha-Raw, James McAvoy, David Oyelowo, and Pedro Pascal, the BAFTA announced.
12) Answer: B
IT services major Wipro Limited announced it has appointed former Walmart executive SubhaTatavarti as its chief technology officer.
The company has also appointed Suzanne Dann as senior vice president and sector head for Capital Markets and Insurance, North America region.
Tatavarti will lead Wipro's Service Transformation, Topcoder, Robotics, SVIC, Technovation Centre, Open Innovation and Applied Research teams, Wipro mentioned in a statement.
Tatavarti joins Wipro from Walmart, where she led product, technology development and commercialization of enterprise infrastructure along with Security, data science and Edge platforms, it added.
13) Answer: E
On April 06, 2021, Housing Development Finance Corporation Ltd (HDFC) acquired 9.9 per cent stake in Kerala Infrastructure Fund Management Ltd.
The Corporation has invested in 3,88,303 equity shares of Rs 10 each of Kerala Infrastructure Fund Management Limited representing 9.9 per cent of its share capital issued on a private placement basis.
14) Answer: C
On April 08, 2021, India formally handed over Rs 100 crore patrol vessel "PS Zoroaster" to Seychelles.
The virtual summit was held between Indian PM Narendra Modi and Seychelles President Wavel Ramkalawan.
The PS Zoroaster is the fourth made-in-India patrol boat to be gifted to Seychelles since 2005.
The other vessels gifted by India include PS Topaz (2005), PS Constant (2014), Patrol Boat Hermes (2016).
About PS Zoroaster :
The 48.9-metre patrol boat was built by Garden Reach Shipbuilders and Engineering at a cost of Rs.100 crore.
It has a top speed of 35 knots and an endurance of 1,500 nautical miles.
The vessel will be used for multi-purpose operations, such as patrolling, anti-smuggling and anti-poaching operations, and search and rescue.
15) Answer: D
World Homeopathy Day is celebrated every year on April 10 to spread awareness about homoeopathy and its contribution to the world of medicine.
The day marks the birth anniversary of German physician Dr Christian Friedrich Samuel Hahnemann, who is considered as the founder of system of alternative medicine called Homeopathy.
The year 2021 marks the 266th birthday of Samuel Hanhemann.
16) Answer: E
A new book Akhtari: The Life and Music of Begum Akhtar to remember about the life and singing experience of indian singer Begum Akhtar.
The book will be released on April 30.
17) Answer: C
On April 09, 2021, Union Education Minister Ramesh Pokhriyal'Nishank'  launchedNanoSniffer, the world's first Microsensor-based Explosive Trace Detector (ETD).
It has been developed by NanoSniff Technologies.
It is being marketed by Vehant Technologies, a spin-off from a former IIT Delhi incubated startup Kritikal Solutions.