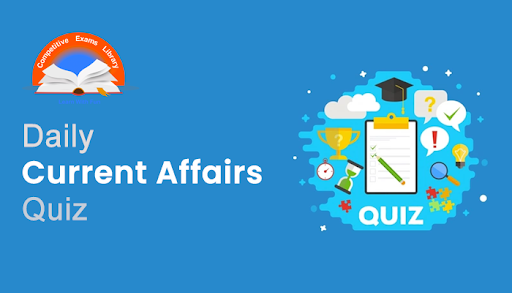 Dear Readers, Daily Current Affairs Questions Quiz for SBI, IBPS, RBI, RRB, SSC Exam 2021 of 13th April 2021. Daily GK quiz online for bank & competitive exam. Here we have given the Daily Current Affairs Quiz based on the previous days Daily Current Affairs updates. Candidates preparing for IBPS, SBI, RBI, RRB, SSC Exam 2021 & other competitive exams can make use of these Current Affairs Quiz.
1) Jallianwala Bagh massacre is observed on which date?
A) April 1
B) April 2
C) April 13
D) April 4
E) April 5
2) Jitendra Singh has unveiled ______ series Pension awareness to mark 75 years of India's independence.
A) 48
B) 50
C) 55
D) 75
E) 60
3) Who among the following has initiated the IAF Commanders' Conference 2021?
A) Narendra Modi
B) NS Tomar
C) Prahlad Patel
D) Amit Shah
E) Rajnath Singh
4) Uzbekistan along with which country has unveiled the construction of a trans-border trade center?
A) Afghanistan
B) Kazakhstan
C) Pakistan
D) Iran
E) Israel
5) Who among the following has introduced the commemorative postage stamp of former Chief of Brahma Kumaris Rajyogini Dadi Janki?
A) Narendra Modi
B) NS Tomar
C) Amit Shah
D) Venkiah Naidu
E) Prahlad Patel
6) Who among the following has inaugurated Raisina Dialogue 2021?
A) Nitin Gadkari
B) NS Tomar
C) Narendra Modi
D) Amit Shah
E) Prahlad Patel
7) Who among the following will meet and talk with French counterparts in New Delhi?
A) NS Tomar
B) Prahlad Patel
C) Amit Shah
D) Nitin Gadkari
E) S Jaishankar
8) The _____ edition of Shahi Snan will come about at Kumbh Mela in Haridwar.
A) 6th
B) 5th
C) 4th
D) 2nd
E) 3rd
9) Microsoft will obtain speech-recognition firm Nuance for USD ____ billion.
A) 12
B) 16
C) 14
D) 15
E) 11
10) China Development Bank will extend a loan to which country for USD 500 million ?
A) Nepal
B) Bhutan
C) Sri Lanka
D) Pakistan
E) Maldives
11) Sanjay Chakravarty who passed away at 79 was a legendary ____.
A) Actor
B) Author
C) Writer
D) Dancer
E) Shooter
12) Deutsche Bank will provide loan of _____ crore to NCDC.
A) 800
B) 750
C) 600
D) 650
E) 700
13) Who among the following has been appointed as Chief Election Commissioner of India?
A) Amit Shah
B) Sunil Singh
C) Naren Chaddha
D) Sushil Chandra
E) Anil Kumar
14) Which company has appointed Vivek Kanade as MD?
A) BMW
B) Siemens
C) Nokia
D) Samsung
E) Hyundai
15) Pramerica Life Insurance has appointed who among the following as MD, CEO?
A) Naresh Chanchal
B) Anand Sharma
C) Suresh Kumar
D) Amit Singh
E) Kalpana Sampat
16) Which institution has won Indian Society for Training & Development award ?
A) NABARD
B) IFFCO
C) HAL
D) BEL
E) BHEL
17) BAFTA Awards 2021: 'Ma Rainey's Black Bottom' has picked up ______awards recently.
A) 6
B) 5
C) 4
D) 2
E) 3
18) Which company has signed MoU with research institutes for value-creation from bauxite residue?
A) HPCL
B) GNC
C) Coal India
D) ONGC
E) Vedanta
19) OneWeb has signed a MoU with the Government of which country?
A) Pakistan
B) Tasmania
C) Kazakhstan
D) Uzbekistan
E) Afghanistan
20) Union Education Minister Shri Ramesh Pokhriyal 'Nishank' has launched _____, the NEP Implementation Plan for School Education
A) AMAR
B) SAMARTH
C) JEEVAN
D) SARTHAQ
E) NEEVESH
Answers :
1) Answer: C
Jallianwala Bagh Massacre, Jallianwala also spelled Jallianwalla, also called Massacre of Amritsar, incident on April 13, 1919, in which British troops fired on a large crowd of unarmed Indians in an open space known as the Jallianwala Bagh in Amritsar in the Punjab region (now in Punjab state) of India, killing several hundred people and wounding many hundreds more.
It marked a turning point in India's modern history, in that it left a permanent scar on Indo-British relations and was the prelude to Mohandas (Mahatma) Gandhi's full commitment to the cause of Indian nationalism and independence from Britain.
And the country came together to fight against the British and to free our mother nation.
28 years, 4 months & 2 days later, India got free and celebrated again.
And 13th April 1919 was marked as the black day in the Indian history.
The park houses a memorial called Jallianwala Bagh Memorial.
2)  Answer: D
Minister for Personnel, Public Grievances and Pensions Dr Jitendra Singh launched 75 series Pension awareness to mark 75 years of India's independence.
As a part of the Amrut Mahotsav, the Department of Pension and Pensioners Welfare will organize a wide range of activities.
Dr Jitendra Singh said, it will be a highly innovative and creative method of observing the 75th year of India's independence by dedicating it to the cause of pensioners and elder citizens.
He said this would personify the real essence of Bharat Ka Amrut Mahotsav by addressing the elder citizens through one of the youngest mediums of social platforms.
3) Answer: E
Defence Minister Rajnath Singh inaugurated First bi-annual Indian Air Force, IAF Commanders' Conference 2021 at Air Headquarters Vayu Bhawan in New Delhi.
The conference of apex level leadership is aimed at addressing the issues of IAF's operational capabilities in the times to come.
A series of discussions would be conducted over a period of three days to address strategies and policies related to capabilities that would give IAF a significant edge over its adversaries.
Various welfare and Human Resource measures to improve HR and administrative efficiency will also be discussed.
Air Force Commanders' Conference is a bi-annual conference held at Subroto Hall, Air Headquarters, Vayu Bhawan.
The Conference provides a forum to the senior leadership of the IAF to discuss critical issues pertaining to Operations, Maintenance and Administration.
The conference is attended by the Air Officers Commanding-in-Chief of all Commands of IAF, all Principal Staff Officers and all Director Generals posted at Air Headquarters.
4) Answer: B
Uzbekistan and Kazakhstan have launched the construction of an international center for trade and economic cooperation named 'Central Asia' on the borders of the two countries, the Uzbek Government.
Uzbek Prime Minister Abdulla Aripov and his Kazkazh counterpart Askar Mamim, laid a capsule at the construction site of the logistic centre, which is located in the vicinity of the border check post Gisht Kuprik.
According to a News release on Kazakh Prime Minister's official website, the center, which occupies 400 hectares of land, will have a capacity of accommodating 35,000 people and 5,000 trucks per day in both directions.
The center is intended to become a large industrial, trade and logistics platform for the implementation of joint investment projects of Kazakhstan and Uzbekistan, the news release said.
It added that the most promising areas of industrial cooperation are the manufacturing sector, agro-industrial complex and light industry.
Kazakhstan is Uzbekistan's third largest trade partner after China and Russia.
5) Answer: D
Vice President M Venkaiah Naidu released a commemorative postage stamp in the memory of former Chief of Brahma Kumaris Rajyogini Dadi Janki in New Delhi.
Speaking on the occasion, Mr Naidu said, what makes Brahma Kumaris so special is that the organization is led by women.
He said they have demonstrated that spiritual attainments transcend gender-based distinction.
The Vice President said, society needs to be educated on equal rights to women in every field, not merely in letter, but in spirit, as well.
He said, spirituality is the basis of all religions and the same spiritual thread binds them together. Mr Naidu said, we should draw inspiration from Dadi Janki's life which was dedicated to God and to selfless service of humanity.
Communications and IT Minister Ravi Shankar Prasad was also present on the occasion.
6) Answer: C
Prime Minister Narendra Modi will inaugurate the Dialogue through a video message.
President of Rwanda Paul Kagame and Prime Minister of Denmark Mette Frederiksen will also join the inaugural session as Chief Guests.
Prime Minister of Australia Scott Morrison will also participate in the conference, in one of the subsequent sessions.
The 4 day Dialogue will be held virtually.
It is India's flagship conference on geopolitics and geoeconomics, held annually since 2016.
It is jointly organized by the Ministry of External Affairs and the Observer Research Foundation.
The theme for the 2021 Edition is "#ViralWorld: Outbreaks, Outliers and Out of Control".
Over the course of four days, the Dialogue will have panel conversations on five thematic pillars – Whose Multilateralism? Reconstructing the UN and Beyond, Securing and Diversifying Supply Chains, Global 'Public Bads': Holding Actors and Nations to Account, Infodemic: Navigating a 'No-Truth' World in the Age of Big Brother and The Green Stimulus: Investing in Gender, Growth, and Development.
7) Answer: E
French Minister for Europe and Foreign Affairs Jean-Yves Le Drian arrived in New Delhi on a three day visit to India.
During the visit, Mr Le Drian will hold talks with External Affairs Minister Dr S Jaishankar on bilateral, regional and international issues of mutual interest.
The visiting dignitary will call on Prime Minister Narendra Modi.
He will also meet Minister of Environment, Forest and Climate Change Prakash Javadekar at a panel discussion on Climate Change.
Mr Le Drian will also participate in the Raisina Dialogue.
He is scheduled to visit Bengaluru also.
India and France enjoys a strategic partnership since 1998 which has been marked by regular high level exchanges and growing cooperation in diverse areas.
Mr Le Drian's visit will pave the way for further strengthening of the partnership across trade, defence, climate, migration and mobility, education and health sectors in the post-Covid context.
8) Answer: D
Second Shahi Snan takes place at Kumbh Mela in Haridwar on the auspicious occasion of Somavati Amavasya.
Devotees from different parts of the country reached Haridwar to take holy dip in the river Ganga at various GHATS in the city.
Second Shahi Snan of Mahakumbh which is being organised here after 12 years.
All the Sant Akhadas are taking part in the Shahi Snan according to the time alloted to them by the administration.
Nepal's last King Gyanendra Beer Vikram Shah Dev is also at Mahakubh for Shahi Snan.
Special arrangements have been made in Haridwar as devotees from across the country are reaching here for holy dip.
The administration has imposed a number of restrictions to prevent the growing infection of Corona.
9) Answer: B
Microsoft is reportedly acquiring speech-recognition company Nuance Communications for nearly USD 16 billion and the deal could be announced (US time), the media reported.
According to a CNBC report citing sources, Microsoft first approached Nuance in December last year.
At about USD 56 per share for Nuance, the acquisition value could be nearly USD 16 billion.
At USD 16 billion, Nuance would be Microsoft's second largest acquisition after LinkedIn that the company bought in 2016 for USD 27 billion.
According to the report, Nuance could expand Microsoft's capabilities in voice software.
Nuance is a US multinational computer software technology corporation, headquartered in Burlington, Massachusetts, that provides speech recognition and artificial intelligence.
10) Answer: C
Sri Lanka inked an agreement with the state-run China Development Bank for a loan of USD 500 million, less than a month after it signed a currency swap deal worth USD 1.5 billion with Beijing, to ensure fiscal stability in the country amidst the challenges posed by the pandemic.
"China is a loyal friend, and reflecting the depth of our friendship, has been generously extending its helping hand to Sri Lanka when difficult challenges confronted us," according to a statement released by the Sri Lankan embassy in Beijing.
"This USD 500 million loan was a part of the USD 1 billion loan (signed before), out of which USD 500 million was released last year," it said.
The loan will infuse much-needed foreign currency to the Lankan economy in order to face the COVID-19 challenges, it said.
11) Answer: E
Legendary shooting coach Sanjay Chakravarty passed away.
Chakravarty is credited for mentoring 2012 London Olympic Games bronze medallist Gagan Narang, and Olympians such as Joydeep Karmakar, Suma Shirur and Anjali Bhagwat in his career spanning more than four decades.
Achievements :
Chakravarty was honoured with the Dronacharya Award for his contribution to the discipline and the Dadoji Konddev Award by the State Government of Maharashtra.
12) Answer: C
Leading German lender Deutsche Bank AG will lend €68.87 million (nearly ₹600 crore) to the National Cooperative Development Corporation (NCDC), a development finance statutory institution under the Ministry of Agriculture and Farmers' Welfare, for financing farmer cooperative initiatives in the country.
The loan agreement between Deutsche Bank and NCDC is expected to be signed in presence of Agriculture Minister Narendra Singh Tomar and other dignitaries.
"It is for the first time a German bank is coming forward to lend us Rs.600 crore, which may seem less as compared to the Rs.3,000 crore exposures we have to Sumitomo Mitsubishi Bank of Japan.
13) Answer: D
President Ram Nath Kovind has appointed Sushil Chandra, the senior-most Election Commissioner, as the Chief Election Commissioner of India.
Mr Chandra will assume the charge.
He will succeed Sunil Arora who demitted office.
Before his appointment to the Election Commission, he was the chairman of the Central Board of Direct Taxes CBDT.
14) Answer: B
Siemens Healthcare India has elevated Vivek Kanade as Managing Director Operations effective April 1.
Kanade, who joined the company 27 years ago, was an executive director prior to his promotion as the MD, the company said in a statement.
Siemens Healthcare India is the wholly-owned subsidiary of Siemens Healthineers AG, which is the medical technology arm of the diversified Siemens group of Germany.
Kanade will continue to lead the business for Siemens Healthineers India, including manufacturing, sales and distribution, strategy for 'zone India', comprising neighbouring countries like Bangladesh, Nepal, Sri Lanka and the Maldives, the statement said.
15)  Answer: E
Private life insurer Pramerica Life Insurance  announced the appointment of Kalpana Sampat its managing director and CEO, effective April 9.
Prior to this appointment, she was the chief operating officer for the company, a release said.
"Sampat is a respected leader in life insurance with an exceptional record.
The board is optimistic that the company can deliver substantial strategic and operational progress under her able leadership," Pramerica Life Insurance Chairman Sunil Kumar Bansal said in the release.
Before joining Pramerica Life Insurance, Sampat was the CEO for Swiss Reinsurance Co, India branch, and was instrumental in its launch in 2015.
16) Answer: C
Bengaluru-based Hindustan Aeronautics Limited (HAL) has bagged the first place for Innovative Training Practices 2019-20 at the 30th National Award ceremony held recently at New Delhi by Indian Society for Training & Development (ISTD).
"We are honoured to receive such a coveted award.
17) Answer: D
The unconventional 74th edition of the British Academy Film Awards (BAFTAs) held its first of two ceremonies on April 10, with the second one scheduled for the subsequent day.
'Ma Rainey's Black Bottom' was the big winner on the opening night, taking home two golden masks.
According to Variety, the first night of the 2021 BAFTAs, which was hosted virtually from London's Royal Albert Hall by TV and BBC radio presenter Clara Amfo, was a mostly craft-centered affair that also yielded wins for 'Mank', 'Tenet' and 'Sound of Metal'.
During the ceremony, eight primarily craft-focussed awards were handed out, including casting, costume, makeup and hair, production design, sound, special visual effects, British short film, and British short animation.
The remaining awards — including the performance and best film categories will be handed out on the second night.
18) Answer: E
Vedanta, India's largest producer of aluminium and its value-added products, has signed a memorandum of understanding (MoU) for value-creation from bauxite residue (red mud), which is a by-product generated during processing of bauxite into alumina using the Bayer process.
Bauxite is the primary ore for aluminium, that undergoes an intermediate refining stage to produce alumina, which then undergoes electrolysis for producing aluminium.
Abundantly available on the Earth's crust, mining of bauxite is one of the most inherently sustainable mining processes.
Approximately three tonnes of bauxite produce one tonne of alumina, and around two tonnes of alumina are required to produce one tonne of aluminium.
19) Answer: C
The company OneWeb has signed an MoU with the Kazakhstan government and local partners.
Bharti group-backed low earth orbit (LEO) satellite communications company OneWeb said it has partnered with the Kazakhstan government to accelerate connectivity in the country.
OneWeb, a Low Earth Orbit (LEO) satellite communications operator, co-owned by Bharti Global and the UK government, has inked a memorandum of understanding (MoU) with the Kazakhstan government and local partners to drive the Central Asian nation's ambitions to digitize its economy boost connectivity and become a pioneer in satellite communications.
20) Answer: D
On April 08, 2021, The Union Education Minister Ramesh Pokhriyal chaired a high-level meeting on the implementation of the National Education Policy (NEP) 2020.
The Department of School Education and Literacy has developed an indicative and suggestive Implementation Plan for School Education, called 'Students' and Teachers' Holistic Advancement through Quality Education (SARTHAQ)'.
About SARTHAQ :
SARTHAQ has been developed by the Department of School Education and Literacy to assist States and UTs with the goals and objectives of the National Education Policy (NEP) 2020.