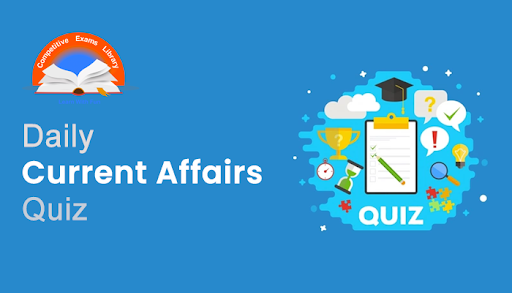 Dear Readers, Daily Current Affairs Questions Quiz for SBI, IBPS, RBI, RRB, SSC Exam 2021 of 14th April 2021. Daily GK quiz online for bank & competitive exam. Here we have given the Daily Current Affairs Quiz based on the previous days Daily Current Affairs updates. Candidates preparing for IBPS, SBI, RBI, RRB, SSC Exam 2021 & other competitive exams can make use of these Current Affairs Quiz.
1) B.R. Ambedkar Remembrance Day is observed on which date?
A) April 11
B) April 2
C) April 14
D) April 3
E) April 4
2) 'Vishu' – festival of harvest has been celebrated by which state recently? 
A) Chhattisgarh
B) Madhya Pradesh
C) Haryana
D) Kerala
E) Uttar Pradesh
3) World Chagas Disease Day is Observed on which date?
A) April 1
B) April 3
C) April 4
D) April 5
E) April 14
4) EdCIL has received the highest reward ever dividend of Rs _____ Crores for 2019-20.
A) 9.5
B) 8.5
C) 12.5
D) 11.5
E) 10.5
5) Who among the following recently interacted with Intel CEO through video conferencing?
A) Narendra Modi
B) NS Tomar
C) Prahlad Patel
D) Narendra Modi
E) Amit Shah
6) Siachen Warriors will celebrate _____ Siachen Day.
A) 30th
B) 37th
C) 36th
D) 35th
E) 34th
7) Haryana Chief Minister has approved purchase of ____ acres of land for AIIMS.
A) 400
B) 350
C) 200
D) 250
E) 300
8) Which organisation has launched the 'Poshan Gyan'?
A) NAFED
B) Assocham
C) FICCI
D) Niti Aayog
E) CII
9) Satish Kaul who passed away recently was an eminent ____.
A) Lyricist
B) Director
C) Singer
D) Writer
E) Actor
10) 'Tamizh Puththandu' has recently been celebrated across which state?
A) Bihar
B) Chhattisgarh
C) Tamil Nadu
D) Madhya Pradesh
E) Haryana
11) World Knowledge Day is Observed on which date?
A) April 3
B) April 5
C) April 7
D) April 14
E) April 9
12) Who among the following has recently held a virtually meet up with President World Bank Group David Malpass?
A) Narendra Modi
B) Nirmala Sitharaman
C) Amit Shah
D) Prahlad Patel
E) NS Tomar
13) Paytm Payments Bank has recorded a _____ million digital transactions in March.
A) 850
B) 910
C) 930
D) 950
E) 970
14) NHB has recently unveiled Rs.______ crore Special Refinance Facility-SRF 2021.
A) 14,000
B) 13,000
C) 10,000
D) 11,000
E) 12,000
15) Who among the following has been appointed as President of the Walt Disney Company India and Star India?
A) Nitya Sinha
B) Amit Kapoor
C) Narendra Singh
D) K Madhavan
E) R Sharma
16) Who among the following has bagged the ICC Men's Player of the Month for March?
A) Robin Uthappa
B) Bhuvneshwar Kumar
C) SuryaKumar Yadav
D) Kuldeep Yadav
E) Nitish Rana
17) Kane Williamson has bagged the Sir Richard Hadlee Medal. He belongs to which country?
A) Pakistan
B) South Africa
C) West Indies
D) Australia
E) New Zealand
18) CCI has approved Rising Sun Holdings' acquisition of ______ per cent stake in Magma Fincorp.
A) 45
B) 40
C) 60
D) 57
E) 55
19) Rajnath Singh recently inaugurated the _____edition of the IAF Commanders' Conference 2021.
A) 3rd
B) 4th
C) 5th
D) 1st
E) 2nd
20) Which country has opened a 5G signal station at the world's highest radar location?
A) Israel
B) France
C) Germany
D) Japan
E) China
21) Who among the following has Launched the Electronic Marketplace e-SANTA  For Aqua Farmers?
A) NS Tomar
B) Amit Shah
C) Prahlad Patel
D) Piyush Goyal
E) Nirmala Sithraman
22) Indian Army Officer has broken ______ Guinness World Records For Fastest Solo Cycling.
A) 6
B) 5
C) 2
D) 3
E) 4
Answers :
1) Answer: C
Ambedkar Remembrance Day is also known as Ambedkar Jayanti or Bhim Jayanti which is observed on 14 April to commemorate the memory of B.R Ambedkar.
This day celebrates the birthday of Baba Saheb Bhimrao Ambedkar, an Indian politician, and social rights activist.
It marks Dr. Babasaheb Ambedkar's birthday that was born on 14 April 1891.
Ambedkar struggled for equality throughout his life and thus, his birthday is celebrated as 'Equality Day' in the country.
He was a world-class lawyer, social reformer and number one world-class scholar as per the Ministry of Social Justice, Government of India.
The public holiday has been declared by invoking powers under Section 25 of the Negotiable Instruments Act, 1881.
The centre had made a similar announcement in 2020 when it had declared April 14th as a national holiday.
This year will be Dr. BR Ambedkar's 130th birth anniversary.
2) Answer: D
Keralites across the globe are celebrating,"Vishu the festival of harvest and prosperity.
Vishu,is the astronomical New Year of  the state  marking the sun's transit into the Medam Rashi .
Lord Krishna is worshipped in this auspicious day that resonates with symbolism of abundance in every sense.
The day begins with "Vishukkani"  the first thing to be seen on this day ,  comprises of lord Krishna adored with fruits and vegetables, kani konna flowers, gold ,coins etc.
Elders of the family offer their blessings in the form of Vishu kaineettam.
In major temples such as Guruvayur, Sree padmanabhaswamy temple , Sabarimala  etc vishu kani and special rituals will be held.
Amid covid pandemic, Vishu is being celebrated under strict restrictions this time.
Authorities had urged to restrict the celebrations to their own home and to avoid crowding in temples.
3) Answer: E
The World Chagas Disease Day is observed on 14 April to raise the public awareness and visibility among people about Chagas Disease (also called American trypanosomiasis) and the resources needed for the prevention, control or elimination of the disease.
The WHO approved the designation of Chagas Disease Day on May 24, 2019 at the 72nd World Health Assembly.
It is one of 11 official global public health campaigns marked by WHO.
The first World Chagas Disease Day was observed on 14 April 2020.
The day has been named after Carlos Ribeiro Justiniano Chagas, the Brazilian doctor who diagnosed the first case on 14 April 1909.
4) Answer: C
EdCIL (India) Limited, a Mini Ratna Category-I Central Public Sector Enterprises under Ministry of Education, paid a highest ever dividend of 12.5 Crore rupees for the year 2019-20.
Minister for Education Ramesh Pokhriyal 'Nishank' received the dividend cheque from CMD of EdCIL Manoj Kumar in the presence of Additional Secretary (Technical Education) Dr. Rakesh Ranjan and other officials of the Ministry and EdCIL.
The company registered a turnover of 326 Crore rupees and a Profit before tax of 56 Crore rupees during the year 2019-20.
EdCIL offers Project Management and Consultancy solutions across education verticals covering ICT or IT Solutions, Online Testing and Assessment Services, Advisory Services, Infrastructure, Procurement and Overseas Education Services.
The company is executing a mega-project of the Ministry of Education called Study in India to increase the number of inbound foreign students to India.
The program includes setting-up of a large portal, call centre, social media campaign, branding, event management and setting-up of facilitation centres.
5) Answer: D
Prime Minister Narendra Modi Interacted with Chief Executive Officer of Intel, Pat Gelsinger through video conferencing.
Both had extensive discussions on the role of technology in furthering human progress.
Mr Modi and Mr Gelsinger also discussed the Digital India efforts and investment opportunities in India.
6) Answer: B
The Siachen Warriors celebrated the 37th Siachen Day with tremendous zeal and enthusiasm.
Brigadier Gurpal Singh laid a wreath and paid homage to the martyrs at the
Siachen War Memorial, Base Camp to commemorate their courage and fortitude in securing the highest and coldest battlefield of the World.
On this day in 1984, Indian troops first unfurled the tricolour at Bilafond Lalaunching Operation Meghdoot.
Since then, it has been a saga of valour and audacity not only in the face of the enemy but also in the face of icy peaks with extreme weather.
To this day, the Siachen Soldier continues to guard the Frozen Frontier with determination and resolve against all odds.
The Siachen Day honours all the Siachen Warriors who served their motherland while successfully thwarting enemy designs over the years.
7) Answer: C
Haryana Chief Minister, Manohar Lal has approved the purchase of 200 acres of land for the AIIMS to be set up in Rewari, as well as the purchase of land for other seven projects.
The Chief Minister was presiding over the meeting of the High Power Land Purchase Committee to buy the land available on e-Bhoomi portal for nine projects at Chandigarh.
This approval was given after the landowners agreed on the price.
Haryana Deputy Chief Minister, Sh. Dushyant Chautala was also present in the meeting.
The Deputy Commissioners and landowners of the respective districts also joined the meeting through video conferencing.
For the AIIMS to be built in Rewari, the committee approved the purchase of 200 acres of land at the rate of Rs. 40 lakh per acre.
For identifying the land for this project, the concerned Deputy Commissioner was asked to prepare a detailed report of the available land.
8) Answer: D
NITI Aayog, in partnership with Bill and Melinda Gates Foundation and Centre for Social and Behaviour Change, Ashoka University launched Poshan Gyan, a national digital repository on health and nutrition.
The launch event was addressed by NITI Aayog Vice Chairman Dr Rajiv Kumar, CEO Amitabh Kant, Women and Child Development Secretary Ram Mohan Mishra and Additional Secretary Dr Rakesh Sarwal.
While launching the website, Dr Rajiv Kumar said, the creation of Poshan Gyan was a landmark moment.
He said, real change can be brought about only through changing behaviours on the ground.
The NITI Aayog Vice Chairman said, high malnutrition persists despite India being a food-surplus nation, which points towards a clear need for behavioural change.
9) Answer: E
Veteran Punjabi Mahabharat actor Satish Kaul Passed away. He was 74. He played the role of Lord Indra in the TV show Mahabharat .
10) Answer: C
Tamizh Puththaandu, the first day of the Chithirai month marks the beginning of the Tamil Calendar.
It is an auspicious occasion for new projects and new ventures in family and social circles.
Covid restrictions are in place in the State, people are celebrating the festival with Covid Appropriate Behaviour.
In keeping with tradition houses are decorated with rangolis at the doorsteps and mango leaf festoons are hung at the entrance .Food with six different tastes are made at home.
Sweet,salt, bitter, sour, spicy and thuvarpu dishes are traditional menus for the day.
The vadai payasam pachadi or a yoghurt based dish is generally prepared with mango.
Mango, jackfruit and banana, the mukkani dish are considered to be the tastiest.
People visit temples to pay obeisance and also visit friends and families.
Chithirai is also the summer season of the year where the heat begins to rise above normalcy.
With south and western districts of the State are pleasant because of the summer rains northern districts face the heat of the season.
11) Answer: D
A Government Resolution issued by the General Administration Department (GAD) said April 14 will now be celebrated as Knowledge Day in the memory of Dr. Ambedkar.
The United Nations celebrated Ambedkar Jayanti in 2016, 2017 and 2018.
In 2017, As per Government of Maharashtra 14 April is observed as Knowledge Day (Dnyan Din) in the Indian state of Maharashtra in memory of Dr. Babasaheb Ambedkar.
Ambedkar is considered as symbol of knowledge in the world.
Dr. B.R. Ambedkar is considered as symbol of knowledge in the world because he has done many higher degrees such as M.A, MSc, PhD etc.
Know why Babasaheb Ambedkar was popularly known as 'Symbol of Knowledge' Amid coronavirus lockdown, Indians will commemorate the Bhimrao Ramji Ambedkar Jayanti 2020 on April 14.
12) Answer: B
Finance Minister Nirmala Sitharaman and President World Bank Group David Malpass met through virtual mode.
Ms Sitharaman and Mr Malpass discussed various issues including Covid Vaccination, economic recovery, World Bank Group lending envelope for India and India's strategy of green resilient and inclusive development.
The Finance Minister shared the measures being taken by India to contain the spread of the second wave of pandemic including the five pillared strategy of test, track, treat, vaccination and covid appropriate behaviour.
She also shared measures taken by Government of India including distribution of LED bulbs, ethanol blending programme under National BioFuel Policy, voluntary vehicle scrapping policy, incentivisation of Electric Vehicles to achieve green, resilient and inclusive development.
Ms Sitharaman welcomed the initiative of the World Bank Group for increasing lending space for India to enhance availability of finance for development.
13) Answer: E
On average opening 1 million savings and current accounts a month.
Paytm Payments Bank Ltd (PPBL), announced that it has become the top enabler of digital payments in the country by registering over 970 million digital transactions in March.
PPBL said that the record growth in digital transactions is largely owed to transactions in Paytm Wallet, Paytm FASTag, Paytm UPI, and internet banking over the last several quarters.
PPBL is opening on an average 1 million savings and current accounts a month.
With over 64 million accounts, the bank's total deposits have crossed over Rs.3200 crores.
14) Answer: C
National Housing Bank (NHB) has rolled out a Rs.10,000-crore 'Special Refinance Facility-2021' (SRF-2021) to provide short term refinance support to housing finance companies (HFCs) and other eligible Primary Lending Institutions (PLIs).
Reserve Bank of India (RBI) governor Shaktikanta Das said the central bank will provide additional special liquidity facility of Rs.10,000 crore to National Bank for Agriculture and Rural Development (Nabard) and National Housing Bank (NHB).
The RBI kept the repo rate, the key interest rate at which it lends to commercial banks, unchanged at 4%. The central bank's rate setting committee was unanimous in its decision to stand pat on interest rates.
15) Answer: D
Media and entertainment conglomerate Walt Disney has named K. Madhavan as president, the Walt Disney Company India and Star India, with immediate effect.
Madhavan takes over from Uday Shankar who had stepped down as president, the Walt Disney Company APAC and chairman, Star and Disney India, last October.
In this role, Madhavan will drive the strategy and growth of the company in India, with responsibility for the Disney, Star and Hotstar businesses and operations spanning across entertainment, sports and regional channels, and direct-to-consumer, the firm said in a statement.
This includes oversight of channel distribution and advertising sales, as well as the local content production business which currently is responsible for the creation of original programming across fiction, non-fiction, sports, and movies.
16) Answer: B
The International Cricket Council (ICC) announced the winners of the ICC Player of the Month Awards for March which recognize and celebrate the best performances from both male and female cricketers across all forms of international cricket.
India's Bhuvneshwar Kumar won the ICC Men's Player of the Month for March for his impressive performances in India's recently concluded series against England.
He was the standout bowler on either side in the white-ball series and was chosen the winner by fans and the ICC voting academy.
17) Answer: E
New Zealand men's captain Kane Williamson was awarded the Sir Richard Hadlee Medal for the fourth time in six years, while Amelia Kerr and Devon Conway claimed double honours at the New Zealand Cricket Awards for the 2020-21 seasons.
Williamson's incredible home Test summer helped him claim the supreme award, along with the International Test Player of the Year and the Redpath Cup for first-class batting, after he amassed a whopping 639 runs in just four innings at an average of 159.
18) Answer: C
On April 12, 2021, The Competition Commission of India approved Adar Poonawalla-led Rising Sun Holdings Pvt Ltd.'s acquisition of a 60% stake in Magma Fincorp.
The commission approves the acquisition of shareholding in Magma Fincorp Ltd. by Rising Sun Holdings, Sanjay Chamria and Mayank Poddar.
The transaction would result in a total capital infusion of 3,456 crore into Magma Fincorp.
Rising Sun is part of Serum Institute of India CEO Adar Poonawalla's Rising Sun group of companies. It is present in the financial services sector through its subsidiary, Poonawalla Finance Private Limited, which is a systemically important non-deposit taking non-banking finance company (NBFC).
19) Answer: D
On April 15, 2021, Defence Minister Rajnath Singh inaugurated the First bi-annual Indian Air Force, IAF Commanders' Conference 2021.
It was held at Air Headquarters Vayu Bhawan in New Delhi.
20) Answer: E
China has opened a 5G signal base at the Ganbala radar station in the remote Himalayan region of Tibet
It is the world's highest manually operated radar station at an elevation of 5,374 meters.
The mountain is located in Nagarze County in Tibet which is in the vicinity of borders with India and Bhutan.
21) Answer: D
On April 13, 2021, Union Commerce and Industry Minister Piyush Goyal virtually inaugurated e-SANTA.
It is an electronic marketplace providing a platform to connect aqua farmers and buyers.
22) Answer: C
Indian Army's Lieutenant Colonel Bharat Pannu has earned two Guinness World Records for his fastest solo cycling.
The first record was created when Lt Col Pannu cycled from Leh to Manali (472 km distance) on October 10, 2020, in just 35 hours and 25 minutes.
He created a second record when he cycled the 5,942-km-long 'Golden Quadrilateral' route, which connects Delhi, Mumbai, Chennai and Kolkata, in 14 days, 23 hours and 52 minutes.
He Started This cycling event from India Gate in New Delhi on October 16, and it ended back at the same spot on October 30.