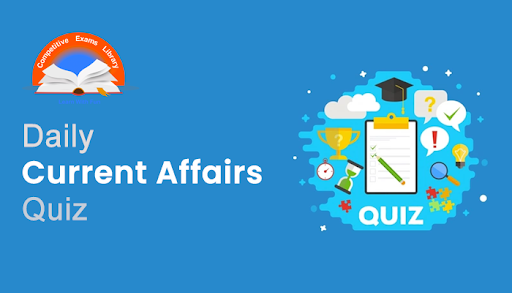 Dear Readers, Daily Current Affairs Questions Quiz for SBI, IBPS, RBI, RRB, SSC Exam 2021 of 20th May 2021. Daily GK quiz online for bank & competitive exam. Here we have given the Daily Current Affairs Quiz based on the previous days Daily Current Affairs updates. Candidates preparing for IBPS, SBI, RBI, RRB, SSC Exam 2021 & other competitive exams can make use of these Current Affairs Quiz.
1) ICMR approves CoviSelf kit – a home testing covid kit which will be priced at ___.
A) 500
B) 100
C) 250
D) 200
E) 150
2) Martha Koome named as which country's first woman chief justice?
A) Afghanistan
B) Pakistan
C) Sudan
D) Kenya
E) Nigeria
3) Arjan Singh Bhullar has become India's ____ MMA world champion.
A) 5th
B) 4th
C) 3rd
D) 2nd
E) 1st
4) Which armed force has designed an 'Oxygen Recycling System' ?
A) CISF
B) BSF
C) CRPF
D) Navy
E) Army
5) E-Sampark team provides tele-consultation to home isolation patients in which state?
A) Telangana
B) Assam
C) Kerala
D) Chhattisgarh
E) Bihar
6) Which organisation has enabled mobile wallets to used for cash withdrawn from ATM & PoS terminals?
A) NHB
B) IRDA
C) NABARD
D) RBI
E) SEBI
7) Which bank in New Delhi has received a nod to open FCRA accounts ?
A) UCO
B) Axis
C) SBI
D) ICICI
E) Bandhan
8) Which Bank has introduced a fully automated loan processing system?
A) HDFC
B) ICICI
C) UCO
D) Axis
E) IDBI
9) Which bank has launched digital banking for corporate customers?
A) Axis
B) HSBC
C) HDFC
D) ICICI
E) SBI
10) Which company has inked a pact with Eli Lilly ?
A) Neel Pharma
B) Sun Pharma
C) BDR Pharma
D) Cipla
E) Ranbaxy
11) Which company is Establishing India's largest international submarine cable system?
A) HP
B) HCL
C) Dell
D) Microsoft
E) Jio
12) JUICE – Jupiter spacecraft has entered its testing phase and has been launched by ___.
A) JAXA
B) ISRA
C) ESA
D) NASA
E) Roscosmos
13) _____ Indian places will be added  to Tentative list of UNESCO World Heritage Sites.
A) 4
B) 6
C) 5
D) 7
E) 8
14) India Ranked ____ spot on RECAI index Released by EY.
A) 6th
B) 5th
C) 2nd
D) 4th
E) 3rd
15) Which edition of the virtual Indian Handicrafts & Gift Fair has been inaugurated in Delhi?
A) 55th
B) 54th
C) 51st
D) 52nd
E) 50th
16) New species of skink – Subdoluseps nilgiriensis found in which state?
A) Arunachal Pradesh
B) Tamil Nadu
C) Madhya Pradesh
D) Haryana
E) Bihar
Answers :
1) Answer: C
The Indian Council of Medical Research, ICMR has approved CoviSelf kit for the purpose of home testing.
It stated that all symptomatic individuals who test negative by Rapid Antigen Test should get themselves immediately tested by RT-PCR.
The test kit will be priced at Rs 250 and available in a pack of one.
Mylab current production capacity is 70 lakh tests per week and plans to increase its capacity to 1 Crore tests per week within 14 days.
ICMR also stated, "The home testing mobile app is available in the Google Play Store and Apple store and must be downloaded by all users.
The mobile app is a comprehensive guide of the testing procedure and will provide 'positive' or 'negative' results to the patient".
2) Answer: D
Lady Justice Martha Karambu Koome is a Kenyan advocate and Human Rights Defender, serving as the Chief Justice of the Republic of Kenya since May 19, 2021.
She is the first woman to serve as Chief Justice in Kenya.
She has an aggregate 33 years experience in the legal profession.
She was appointed by President Uhuru Kenyatta just a few weeks after the 61-year-old came top of 10 candidates interviewed in front of a live television audience by Kenya's Judicial Service Commission (JSC).
3) Answer: E
On May 15, 2021, Mixed Martial Artist (MMA) Arjan Bhullar became the first Indian to win the ONE Heavyweight World Title at the Singapore Indoor Stadium.
The result saw the Indo-Canadian fighter take his MMA record to 11-1.
4) Answer: D
Indian Navy has designed an Oxygen Recycling System, ORS to mitigate the current oxygen crisis.
The Diving School of the Southern Naval Command of the Indian Navy has conceptualized and designed the System to alleviate the existing Oxygen shortage.
The ORS has been designed by Lieutenant Commander Mayank Sharma of the Diving School.
The system's design has been patented, and an application to this effect has been filed by the Indian Navy on May 13.
ORS is designed to extend the life of the existing medical oxygen cylinders two to four times, using the fact that only a small percentage of oxygen inhaled by a patient is actually absorbed by the lungs, the rest being exhaled into the atmosphere along with carbon dioxide produced by the body.
5) Answer: B
In Assam, the tele session service of the well being division is offering good assistance to nearly 60,000 COVID-19 sufferers who've opted for dwelling isolation.
The e-Sampark staff has to date supplied tele-consultation to almost 60 thousand dwelling isolation sufferers.
The staff chief of the service in Assam Dr. Siddhartha Maurya, knowledgeable that it has arranged a devoted staff to assist individuals.
6) Answer: D
Reserve Bank of India has permitted 35 prepaid payments instruments i.e. PPI.
It includes Delhi Metro Card, Amazon Pay, Phonepe, Ola Money, Mobikwick wallet etc.
Money can be loaded in these wallets, it can be transferred to another wallet or bank account or it can be used to make payment during online transactions.
Now money from these instruments can be withdrawn using an ATM.
The RBI's governor made this announcement after a meeting of the Monetary Policy Committee.
RBI has also proposed to make interoperability mandatory for full KYC PPI.
Now the balance in these wallets has been increased to 2 lakh from 1 lakh.
Besides this, RBI also allowed these wallets, credit and prepaid cards to use RTGS and NEFT for money transfer.
7) Answer: C
The Ministry of Home Affairs (MHA) has permitted existing Foreign Contribution (Regulation) Act (FCRA) account holders, including NGOs and associations, to open their "FCRA Account" in the New Delhi Main Branch (NDMB) of the State Bank of India up to June 30, 2021.
State Bank of India's (SBI) New Delhi Main Branch has opened 13,729 Foreign Contribution (Regulation) Act (FCRA) accounts till date.
The bank stated that it has already opened accounts for 78 per cent of the applicants.
SBI's New Delhi Main Branch was designated to open FCRA accounts by the Ministry of Home Affairs (MHA) in October 2020.
8) Answer: E
IDBI Bank announced the launch of its fully digitized loan processing system, offering over 50 products to MSME and agriculture sector.
The Loan Processing System (LPS) for MSME and agri products seamlessly integrates with data fintechs, bureau validations, document storage, account management and customer notifications among others, IDBI Bank said in a release.
Bank mentioned that these features of the fully digitized and automated loan processing system are further aimed at providing a superior tech-enabled banking experience to bank's MSME and agri customers.
9) Answer: B
HSBC India has launched digital banking solutions for its corporate customers.
"HSBC SmartServe and HSBC IntelliSign" are first-of-its-kind digital solutions aimed at ensuring a quick, secure and seamless on-boarding process for corporate clients.
The API (Application Programming Interface) enabled solutions provide an accelerated onboarding experience, replacing the documentation process with a digital platform, including the use of electronic signatures, as well as leveraging existing data assets to complete account opening requirements.
10) Answer: C
Drug firm BDR Pharma stated it has inked a licensing pact with Eli Lilly And Company for the manufacturing and distribution of Baricitinib for the treatment of COVID-19 in India.
The company mentioned it has entered into a royalty-free, limited and non-exclusive voluntary licensing agreement with Eli Lilly and Company.
Eli Lilly has received the permission for the drug for restricted emergency use from Central Drugs Standard Control Organization, a division of the Ministry of Health.
11) Answer: E
On May 17, 2021, Mukesh Ambani-led Reliance Jio Infocomm will be constructing the largest international submarine cable system centred on India.
It will consist of the India-Asia-Xpress (IAX) system connecting India eastbound to Singapore and India-Europe-Xpress (IEX) system connecting India westbound to the Middle East and Europe.
These high capacity and high-speed systems will provide more than 200 Tbps of capacity spanning over 16,000 kilometres.
12) Answer: C
The European Space Agency developed an interplanetary spacecraft named JUICE (Jupiter Icy Moons Explorer ) that has entered into a testing phase.
It can be tested at Esa's European Space Research and Technology Centre (ESTEC) in the Netherlands.
The tests are scheduled to take 31 days to complete.
It has been assembled by Airbus Friedrichshafen, Germany.
Jupiter Icy Moons Explorer Lift off by 2022 on an Ariane 5 rocket and it is expected to reach Jupiter in 2029.
It will begin an extensive investigation of the planet and its oceanic moons: Europa, Ganymede and Callisto will investigate the conditions necessary for habitability.
13) Answer: B
On May 18, 2021, Six Indian sites were added to the tentative list of UNESCO's world heritage sites, the Ministry of Culture.
The submissions were made by Archaeological Survey of India, which is responsible for the conservation and preservation of Indian monuments.
The six sites are namely :
Satpura Tiger Reserve
Iconic riverfront of the historic city of Varanasi
Megalithic site of Hire Benkal
Maratha Military Architecture in Maharashtra
Bhedaghat-Lameta Ghat in Narmada Valley- Jabalpur,
Temples of Kanchipuram.
In Addition to that UNESCO has 48 proposals in the tentative list of India.
14) Answer: E
India has moved a notch higher at the third spot on EY's Renewable Energy Country Attractiveness Index.
It is the 57th Renewable Energy Country Attractiveness Index released by Ernst & Young.
The US retains top position on RECAI 57, Followed by China, India, United Kingdom, and France.
India's solar sector is expected to grow significantly post the pandemic, with generation from solar PV forecast to exceed coal before 2040.
India also committed to setting up 450 GW for renewable energy power capacity (installed) by 2030 in the recent climate summit hosted by the US.
15) Answer: C
The 51st edition of virtual Indian Handicrafts and Gift Fair, IHGF of Delhi was inaugurated.
The fair is the India's largest Virtual Fair in the Home, Fashion, Lifestyle, Textiles and Furniture sector and an exclusive B2B online platform is developed to assist the buyers from all across the globe to source from India.
During the Fair Webinars on topics such as "Quick Ways to Optimise Forex Operations in Turbulent Times"and "Seven easy ways to grow your Exports" will be organized to provide in depth knowledge to the participants so that they can keep themselves abreast with the international trade requirements.
Further, craft demonstrations by Artisans on blue pottery, Warli painting, screw pine craft, Kani shawls, Meenakari, artistic Textiles will also form part of the activities that are scheduled during the fair.
16) Answer: B
A group of herpetologists gathered for the South Asian Reptile Red List Assessment organised by the International Union for Conservation of Nature (IUCN) discovered a new species of Asian gracile skink from the dry leeward slopes of the Nilgiri hills (Western Ghats), Tamil Nadu state, India.
The new species has been named  Subdoluseps nilgiriensis