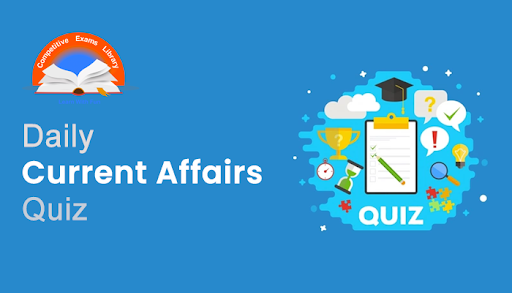 Dear Readers, Daily Current Affairs Questions Quiz for SBI, IBPS, RBI, RRB, SSC Exam 2021 of 21st May 2021. Daily GK quiz online for bank & competitive exam. Here we have given the Daily Current Affairs Quiz based on the previous days Daily Current Affairs updates. Candidates preparing for IBPS, SBI, RBI, RRB, SSC Exam 2021 & other competitive exams can make use of these Current Affairs Quiz.
1) World Bee Day is Observed on May ___.
A) 24th
B) 23rd
C) 20th
D) 21st
E) 22nd
2) International Tea Day – Observed on which date?
A) May 11
B) May 20
C) May 21
D) May 30
E) May 24
3) Jagannath Pahadia who passed away recently was the CM of which state?
A) Chhattisgarh
B) Uttar Pradesh
C) Madhya Pradesh
D) Rajasthan
E) Haryana
4) World Metrology Day is Observed on May ___.
A) 24th
B) 23rd
C) 22nd
D) 21st
E) 20th
5) National Anti-Terrorism Day is Observed on which date?
A) May 11
B) May 10
C) May 18
D) May 21
E) May 19
6) World Day for Cultural Diversity for Dialogue and Development is Observed on May ___.
A) 11th
B) 19th
C) 23rd
D) 21st
E) 22nd
7) Who among the following has launched the project of honey testing laboratory at IARI?
A) Anurag Thakur
B) NK Singh
C) Prahlad Patel
D) Amit Shah
E) NS Tomar
8) The government has revised the subsidy on export of sugar for sugar season 2020-21 to ____ metric tonne.
A) 4500
B) 6000
C) 6500
D) 5500
E) 5000
9) Union Health Minister has chaired ___ meeting of Health Ministers of Commonwealth countries opening session.
A) 29th
B) 25th
C) 33rd
D) 21st
E) 20th
10) HUL brings up Mission HO2PE in which state?
A) Himachal Pradesh
B) Uttar Pradesh
C) Kerala
D) Assam
E) Haryana
11) Prasar Bharati will launch which International channel?
A) DD Us
B) DD UK
C) HDTV
D) DD International
E) DD Regional
12) Founder of TikTok's Chinese owner Zhang Yiming stepped down as CEO. He founded ByteDance in which year?
A) 2016
B) 2015
C) 2012
D) 2011
E) 2014
13) Prime Minister Hasina handed over the Independence Award 2021 also known as ___.
A) Upkar
B) Sehkar
C) Rajshri
D) Swadhinta
E) Rajshahi
14) National Endangered Species Day is Observed on ___ Friday of May.
A) 1st
B) 5th
C) 4th
D) 2nd
E) 3rd
15) India and which country renew MoU on military cooperation?
A) Japan
B) Thailand
C) Oman
D) Bangladesh
E) Pakistan
16) Which company has Initiated mechanical minefield marking equipment for Indian Army?
A) Jio
B) ONGC
C) BEL
D) HAL
E) BEML
17) Which company has floated the News Showcase in India?
A) Whatsapp
B) Instagram
C) Google
D) Facebook
E) Twitter
18) Which organization has Finished its Pre Launch test on James Webb Space Telescope?
A) Roscosmos
B) CNES
C) JAXA
D) NASA
E) ISRO
19) S&P Global Market Intelligence : India has emerged as ____-largest insurance technology market.
A) 5th
B) 2nd
C) 1st
D) 3rd
E) 4th
20) Barbora Strycova who retired recently was a ___.
A) Actor
B) Singer
C) Cricketer
D) Hockey player
E) Tennis player
Answers :
1) Answer: C
World Bee Day is celebrated on May 20.
The theme of World Bee Day 2021 is: Bee Engaged – Build Back Better for Bees.
On this day Anton Janša, the pioneer of beekeeping, was born in 1734.
The purpose of the international day is to acknowledge the role of bees and other pollinators for the ecosystem.
The U.N. has designated May 20 as the day to celebrate these famous pollinators.
"There are 20,000 species of bees around the world and a lot of these bees are in decline," says bee expert Hien Ngo.
2) Answer: C
International Tea Day is observed annually on May 21, according to the United Nations.
The resolution was adopted on December 21, 2019 and calls on the United Nations Food and Agriculture Organization to lead the observance of the Day.
The reason for UN celebrating May 21 as International Tea Day is that the season of tea production begins in May in most of the tea producing countries.
According to the UN, tea has medicinal value and has the potential of bringing health benefits to people.
3) Answer: D
On May 19, 2021, Veteran Congress leader and former Rajasthan chief minister Jagannath Pahadia Passed away.
He was 89.
About Jagannath Pahadia :
Pahadia was the chief minister of Rajasthan for about eleven months from June 6, 1980 to July 13, 1981.
4) Answer: E
World Metrology Day is an event occurring on 20 May celebrating the International System of Units.
The theme for World Metrology Day 2021 is "Measurement for Health".
The date is the anniversary of the signing of the Metre Convention in 1875.
Metrology is the study of measurement.
The World Metrology Day project is currently realized jointly by the BIPM and the OIML.
World Metrology Day is an annual celebration of the signature of the Metre Convention on 20 May 1875 by representatives of seventeen nations.
5) Answer: D
Anti-Terrorism Day is observed on May 21 in India every year.
The objective behind the observance of this day is to wean away from the youth from terrorism and the cult of violence by highlighting the suffering of common people and showing how it is prejudicial to the national interest.
It was on this day in the year 1991 that former Indian Prime Minister Rajiv Gandhi was assassinated.
This year commemorates Rajiv Gandhi's 30th death anniversary as India observes Anti-Terrorism Day.
6) Answer: D
The World Day for Cultural Diversity for Dialogue and Development is a United Nations–sanctioned international holiday for the promotion of diversity issues.
It is currently celebrated on May 21.
Every year on 21 May, the World Day for Cultural Diversity for Dialogue and Development celebrates not only the richness of the world's cultures, but also the essential role of intercultural dialogue for achieving peace and sustainable development.
7) Answer: E
On the occasion of World Bee Day and in the context of Azadi ka Amrit Mahotsav, Agriculture Minister Narendra Singh Tomar launched the project of setting up of a honey testing laboratory at the Indian Agricultural Research Institute, Pusa, and New Delhi.
He informed,  efforts are also being made for good quality honey.
Inaugurating the project to establish a regional honey quality testing laboratory at the Indian Agricultural Research Institute (IARI) for quality testing of honey and other products of beekeeping under the National Beekeeping and Honey Mission, Union Minister Shri Tomar said that when farmers used to get a bag of DAP for Rs. 1200, its actual price was Rs. 1700.
The government used to pay the remaining Rs. 500.
Government provides a subsidy of just Rs. 500 per bag in such a situation, it would have been available for the farmers for Rs. 1900 per bag.
8) Answer: B
Govt revises subsidy on export of sugar for sugar season 2020-21 from Rs 6000 to Rs 4000 per metric tonne.
In view of the increase in international prices of sugar, the government has reviewed the subsidy on the export of sugar for sugar season 2020-21 and revised it from Rs 6000 to Rs 4000 per metric tonne.
9) Answer: C
Dr. Harshvardhan, Union Minister for Health and Family Welfare chaired the opening session of the 33rd meeting of Health Ministers of Commonwealth countries through video conference.
Agenda of the Meet – 'Ensuring Equitable Access to Vaccines and Building Resilience for Health Systems and Emergencies'
Health minister stated that, "My motto has always been 'Health for those without wealth'"
He pointed out how India's thrust on telemedicine would show the way.
"In India, such hurdles were overcome by the extensive use of technology.
Our National telemedicine platform eSanjeevaniOPD has been one such remarkable initiative which facilitated over 5 million consultations in a short span of 14 months.
10) Answer: D
Hindustan Unilever Limited has rolled out Mission HO2PE in Assam.
Through Mission HO2PE, HUL has airlifted over 5000 oxygen concentrators into India.
Through Mission HO2PE, HUL will provide access to oxygen for COVID-19 patients.
'Mission HO2PE' is also being rolled out in other severely affected cities such as New Delhi, Bangalore, Kolkata, Lucknow, Chennai, Hyderabad, and Chandigarh.
HUL will also be donating 1000 concentrators to hospitals in nearly 20 locations across India.
11) Answer: D
India's national broadcaster, Doordarshan (DD) is going to set up a new international channel, DD International, on the lines of BBC World to present India's point of view to the world in wake of the rising negative coverage of India's COVID-19 crisis in foreign media.
Prasar Bharati, the parent body of DD, has floated an Expression of Interest (EOI) seeking suggestions to draft a detailed project report for the upcoming news channel.
This move comes after the government received global criticism from the media worldwide on the handling of the COVID-19 pandemic.
12) Answer: C
Zhang Yiming announced he will step down as CEO of TikTok-owner ByteDance, saying he lacked the social skills to be an ideal manager and naming his college roommate Liang Rubo as his successor to navigate a rising tide of Big Tech regulations.
Zhang founded ByteDance in 2012.
Its first short-video platform, Douyin, was launched in 2016.
TikTok was launched outside China the following year.
The company said last year that TikTok had 700 million users globally.
13) Answer: D
Prime Minister Sheikh Hasina gave away the highest civilian award of Bangladesh 'Swadhinta Puraskar 2021' also known as Independence Award to nine individuals and a research organisation.
She handed over the award at her official residence Ganabandhan in Dhaka.
The Independence Award is conferred on people or organizations for their outstanding contribution to the Liberation War of Bangladesh, Science and Technology, literature and Culture among others.
The award for the year 2021 included four posthumous awards given to AKM Bazlur Rahman, Shaheed Ahsanullah Master, Brigadier General Khurshid Uddin Ahmed, and Akhtaruzzaman Chowdhury Babu for their contribution to independence and the War of Liberation.
Dr. Mrinmoy Guha Neogi received the honour for his contribution to Science and Technology while Mohadeb Saha was bestowed with the award for his contribution to the field of literature.
Ataur Rahman and Gazi Mazharul Anwar got the award for Culture and Prof. M Amjad Hossain for Social Work.
Bangladesh Agricultural Research Council received the award in the research and training category.
14) Answer: E
National Endangered Species Day is observed every year on the third Friday in May.
This year the day falls on May 21.
The theme for National Endangered Species Day 2021 is "Wildlife without Borders".
Across the globe, the day is celebrated to raise awareness about endangered species of flora and fauna.
Each year on the third Friday in May, National Endangered Species Day offers an opportunity for everyone to learn about the importance of protecting endangered species.
The observance also encourages learning about wildlife habitats and the actions necessary to protect them.
15) Answer: C
The ministry stated that, "India and Oman renewed the Memoranda of Understanding (MoUs) on military cooperation along with its annexure as well as on maritime issues on May 20″.
The document was signed by Secretary-General of Oman"sdefence ministry Dr Mohammed bin Nasser Al Zaabi and Indian Ambassador MunuMahawar.
The MoU on cooperation on maritime issues was signed at the maritime security centre by Commander of Royal Navy of Oman Rear Admiral Saif bin Nasser Al Rahbi and Mahawar.
16) Answer: E
For Indian Army , Bharat Earth Movers limited has rolled out the first prototype of mechanical minefield marking equipment Mk-II.
It has been built on BEML TATRA 6×6 an 'Atmanirbhar' product.
The equipment has been developed through Technology of Transfer (ToT) from Research & Development Establishment Engineers (R&DE Engineers), Defence Research and Development Organisation (DRDO).
17) Answer: C
On May 18, 2021, Google launched its global licensing programme, News Showcase, in India.
Amid mounting pressure from the global media fraternity asked for a fair price and advertising share from technology platforms.
In February, the Indian Newspaper Society (INS) had also asked search engine Google to compensate newspapers for the use of content published by them and sought a larger share of its advertising revenue.
Google has sealed agreements with 30 Indian publishers to offer access to some of their content.
The content from these publishers will begin to appear in dedicated News Showcase story panels in Google News and on Discover pages in English and Hindi.
The support for more local languages will be added in the future.
It will also pay participating news organizations to give readers access to a limited amount of paywalled content.
18) Answer: D
NASA Finished its Pre Launch test on James Webb Space Telescope
James Webb Space Telescope , The world's largest and most powerful space science telescope Successfully Completed its Pre Launch Test.
This event marked a key milestone in preparing the observatory for launch later this year.
It is done by opening its iconic primary mirror.
The 6.5 meter (21 feet 4 inch) mirror was commanded to fully expand and lock itself into place.
It will survive its million-mile (1.6 million kilometre) journey and is ready to discover the origins of the Universe.
The mirrors will function as one massive reflector, to enable the telescope to peer deeper into the cosmos than ever before.
It can be fitted within a 5 meter launch vehicle and it is designed to be folded in origami style.
19) Answer: B
India is the second largest  insurance technology market in the Asia Pacific, as per a new report released by S&P Global Market Intelligence.
India has the second-largest insurance technology market after China.
China was the largest insurance-technology market and it accounts for around 43% of the total investment.
India Contributes for USD 1.28 billion, or 35% of the total venture capital poured into the insurtech sector in the Asia Pacific region so far.
Out of 335 private insurtech firms in the APAC region, 122 companies have disclosed their fundraise, amounting to a total of USD 3.66 billion.
Nearly half of them are headquartered in India and China, and have collectively attracted about 78% of the total investment.
20) Answer: E
Barbora Strycova, a former top-ranked doubles player and Wimbledon singles semifinalist, has announced retirement from Tennis.
About Barbora Strycova :
Strycova won two WTA singles titles and 31 in doubles.
In 2016, She won the bronze medal at the Rio de Janeiro Olympics.
In 2019, She won the women's doubles with Hsieh Su-wei to become No. 1.
Her career-high in singles was No. 16.