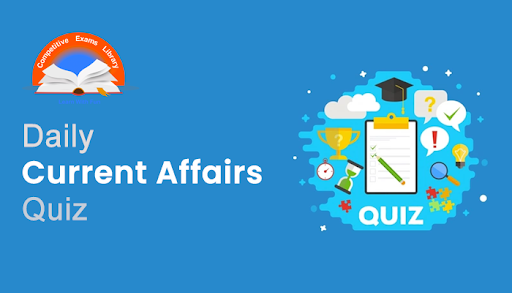 Dear Readers, Daily Current Affairs Questions Quiz for SBI, IBPS, RBI, RRB, SSC Exam 2021 of 22nd May 2021. Daily GK quiz online for bank & competitive exam. Here we have given the Daily Current Affairs Quiz based on the previous days Daily Current Affairs updates. Candidates preparing for IBPS, SBI, RBI, RRB, SSC Exam 2021 & other competitive exams can make use of these Current Affairs Quiz.
1) International Day for Biological Diversity is Observed on May ___.
A) 15
B) 14
C) 22
D) 20
E) 23
2) Who among the following introduced the National Mobile Monitoring Software app?
A) Anurag Thakur
B) Prahlad Patel
C) Narendra Modi
D) NS Tomar
E) Amit Shah
3) Which institution has developed an antibody detection-based kit 'DIPCOVAN'?
A) HAL
B) ISRO
C) BDL
D) BEL
E) DRDO
4) Which state government has launched the "Mission Oxygen Self-Reliance" scheme to meet the state's oxygen needs?
A) Andhra Pradesh
B) Odisha
C) Maharashtra
D) Bihar
E) Haryana
5) Which Group has introduced an ed-tech platform 'Hero Vired'?
A) Prepper
B) Hero
C) Vedantu
D) E-Spark
E) Unacademy
6) Which company has unveiled RT-PCR test kit 'ViraGen' in India partnership with Ubio Biotech?
A) Piramal
B) Patanjali
C) Pfizer
D) Cipla
E) Ranbaxy
7) Which company has introduced for free online medical consultation platform for customers?
A) Maruti
B) Honda
C) BMW
D) Audi
E) MG Motors
8) Microsoft decided to retire the Internet Explorer browser on June 15, ___.
A) 2026
B) 2025
C) 2022
D) 2023
E) 2024
9) Equitas became ___ SFB to offer NRIs online account opening facility.
A) 4th
B) 5th
C) 3rd
D) 1st
E) 2nd
10) The RBI has imposed monetary penalty on City Union Bank, Tamilnad Mercantile Bank and two other lenders, presently how many deputy governorsin RBI?
A) 3
B) 2
C) 5
D) 6
E) 4
11) Which company has brought Sonali Malaviya on board as the MD?
A) Honda
B) Volvo
C) Essence
D) Landmark
E) ITC
12) INS Rajput, Indian Navy's ___ destroyer, to be decommissioned.
A) 4th
B) 5th
C) 1st
D) 2nd
E) 3rd
13) Cyclone Tauktae has made landfall in which state?
A) Madhya Pradesh
B) Kerala
C) Bihar
D) Gujarat
E) Haryana
14) Women's Champions League trophy – which team has beaten Chelsea to win?
A) ParisFC
B) Liverpool
C) LaLiga
D) Madrid
E) Barcelona
15) Sunderlal Bahuguna who passed away recently was an eminent ___.
A) Actor
B) Doctor
C) Environmentalist
D) Singer
E) Writer
Answers :
1) Answer: C
The International Day for Biological Diversity is a United Nations–sanctioned international day for the promotion of biodiversity issues.
It is currently held on May 22.
The theme for this year's (2021) IDB is "We're part of the solution".
This year's slogan is a continuation of 2020 theme- "Our solutions are in nature".
This serves as a reminder that biodiversity remains the answer to several sustainable development challenges.
The International Day for Biological Diversity falls within the scope of the UN Post-2015 Development Agenda's Sustainable Development Goals.
2) Answer: D
Rural Advancement Minister Narendra Singh Tomar now launched Nationwide Cellular Checking Application, NMMS app and Space officer checking Application via Movie-Conferencing.
The NMMS App permits having true time attendance of employees at Mahatma Gandhi NREGA worksites along with geotagged photographs, which will increase citizen oversight of the programme apart from possibly enabling processing payments faster.
Space Officer Monitoring Application facilitates them to document their conclusions on the internet along with time stamped and go-coordinate tagged photographs for all the techniques of the Department of Rural Development.
This will help not only improve documents trying to keep off inspections by field and supervisory officials but also aid analysis of the conclusions for far better programme implementation.
3) Answer: E
A lab of the Defence Research and Development Organisation (DRDO) has developed a Covid-19 antibody detection-based kit called DIPCOVAN.
The kit can detect coronavirus spikes as well as the nucleocapsid proteins of the virus.
DRDO stated that "The kit can detect spike as well as nucleocapsid (S&N) proteins of SARS-CoV-2 virus with a high sensitivity of 97% & specificity of 99%".
The DIPCOVAN kit was developed indigenously by the scientists followed by extensive validation on more than one thousand patient samples at various COVID designated hospitals in Delhi.
4) Answer: C
Maharashtra government has launched the "Mission Oxygen Self-Reliance" scheme to meet the state's oxygen needs.
Special incentives will be given to oxygen producing industries under this scheme.
At present the state's oxygen generation capacity is 1300 MT per day.
In order to meet the increasing demand, the state government has declared few incentives to meet the target of producing 3000 MT of oxygen per day.
5) Answer: B
The Hero Group has announced the launch of Hero Vired, a new edtech company.
The edtech venture will offer an end-to-end learning ecosystem.
It will make the learners industry-ready for the emerging jobs and professions.
The space already includes startups, like upGrad, Udemy, Great Learning, Simplilearn, among others.
Besides upGrad, Hero Vired will have to also compete with startups that have a differentiated model in skill development, including Matrix Partners-backed Pesto Tech, Sequoia-funded Scaler Academy, and Y Combinator-backed Lambda School in the global market.
6) Answer: D
Drug major Cipla announced the commercialization of its RT-PCR test kit 'ViraGen' for COVID-19 in India, in partnership with Ubio Biotechnology Systems.
"This launch will help address the current testing services and capacity issues while reaffirming the company's ongoing expansion in the diagnostic space".
The company will commence supply of the COVID-19 virus detection kit from May 25, 2021.
7) Answer: E
MG Motor India  launched a platform for free online medical consultation with doctors for its customers as part of its COVID-19 relief initiatives.
To avail of the 24×7 service, customers have to register themselves on the carmaker's website or through the MY MG APP.
Through MG Healthline, MG customers can avail of free consultation with highly qualified doctors for themselves or their family members.
MG Motor India Chief Commercial Officer and Senior Vice President Gaurav Gupta mentioned, "The initiative under our overall community service umbrella MG Sewa is to support and provide a helping hand to our customers in these challenging times."
8) Answer: C
Internet Explorer was once the most widely used web browser, obtaining a peak of about 95 percent usage share by 2003.
Microsoft has announced to retire its iconic Internet Explorer (IE) browser in June 2022, as it envisions the future of Internet Explorer, which was launched in 1995, on Windows 10 in Microsoft Edge.
Over the last year, Microsoft is moving away from Internet Explorer support, such as an announcement of the end of IE support by Microsoft 365 online services.
The company stated that, "With Microsoft Edge capable of assuming this responsibility and more, the Internet Explorer 11 desktop application will be retired and go out of support on June 15, 2022, for certain versions of Windows 10".
9) Answer: D
Equitas Small Finance Bank has touched a new milestone by becoming the first Small Finance Bank to offer its NRI customer segment the ease of account opening online.
The bank will also be the only one in the SFB space to have virtual relationship managers based on time zones, it claimed.
The company will also be the only one in the Small Finance Bank sector to have Virtual Relationship Managers based on time zones.
Murali Vaidyanathan, President & Country Head, Branch Banking Liabilities Product & Wealth Equitas Small Finance noted that, "The Digitization of Banking at ESFB has helped to offer the services at the convenience, safety and wellbeing of our customers and employees being our paramount concern.
10) Answer: E
The RBI has imposed monetary penalty on City Union Bank, Tamilnad Mercantile Bank and two other lenders for contravention of certain directions issued by the central bank non-compliance with certain provisions contained in the RBI (Lending to Micro, Small & Medium Enterprises (MSME) Sector) Directions, 2017 and the circulars on Educational Loan Scheme and Credit Flow to Agriculture – Agricultural Loans – Waiver of Margin/Security Requirements.
The RBI has imposed Rs 1 crore monetary penalty on City Union Bank.
RBI said it has imposed a penalty of Rs 1 crore on Tamilnad Mercantile Bank.
The central bank imposed a penalty of Rs 90 lakh on Nutan NagarikSahakari Bank, Ahmedabad
The apex bank has also imposed monetary penalty of Rs 10 lakh on Daimler Financial Services India Private Limited, Pune
RBI Governor: Shaktikanta Das
RBI Deputy Governors: T. Rabi Sankar, M. Rajeshwar Rao, Dr. M. D. Patra, M. K. Jain
11) Answer: C
Essence, a global data and measurement-driven media agency which is part of GroupM, announced the appointment of Sonali Malaviya as the agency's managing director for India.
She will be responsible for leading the agency's business growth in the market.
12) Answer: C
On May 21, 2021, INS Rajput, the first destroyer of the Indian Navy, will be decommissioned after over 41 years of service.
It was the lead ship of the Kashin-class destroyers built by the erstwhile USSR.
The ship had the motto "Raj Karega Rajput''
INS Rajput was constructed in the 61 Communards Shipyard in Nikolaev (present-day Ukraine) under her original Russian name 'Nadezhny' meaning 'Hope'.
The ship was commissioned as INS Rajput on May 4, 1980 at Poti, Georgia by I K Gujral, the then Ambassador of India to USSR.
Captain Gulab Mohanlal Hiranandani as her first Commanding Officer.
The ship participated in several operations aimed at keeping the nation secure and also participated in numerous bilateral and multinational exercises.
It was also the first Indian Naval Ship to be affiliated with an Indian Army regiment, the Rajput Regiment.
13) Answer: D
In the Saurashtra region of Gujarat, Indian Meteorological Department Informed that Tauktae the extremely Severe Cyclonic Storm  made landfall.
It is Formed in the Arabian Sea.
It mainly causes damage to the states of Gujarat, Kerala, Maharashtra, Daman & Diu.
The Cyclone Cause Several rains, and winds upto 150-160 kmph.
14) Answer: E
For the first time in the club's history, Barcelona beat Chelsea 4-0 to win the Women's Champions League final.
In Gothenburg, the first 36 minutes, Chelsea conceded four goals as Barcelona blew them away to win their first Women's Champions League.
15) Answer: C
On May 21, 2021, Noted environmentalist and Gandhian activist, Sunderlal Bahuguna Passed away.
He was 94.