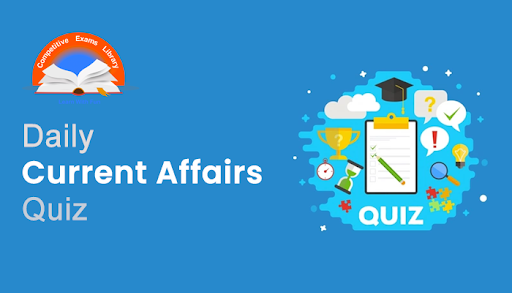 Dear Readers, Daily Current Affairs Questions Quiz for SBI, IBPS, RBI, RRB, SSC Exam 2021 of 28th January 2021. Daily GK quiz online for bank & competitive exam. Here we have given the Daily Current Affairs Quiz based on the previous days Daily Current Affairs updates. Candidates preparing for IBPS, SBI, RBI, RRB, SSC Exam 2021 & other competitive exams can make use of these Current Affairs Quiz.
1) International Data privacy day is observed on which of the following day?
A) January 21
B) January 14
C) January 28
D) January 17
E) January 19
2) Uddhav Thackeray has recently inaugurated a Zoological Park in which city?
A) Aurangabad
B) Nashik
C) Solapur
D) Nagpur
E) Pune
3)  India has recently pledged _______for the UN Peacebuilding Fund for 2021.
A) $170,000
B) $180,000
C) $200,000
D) $100,000
E) $150,000
4) Who among the following has recently chaired the meeting of PRAGATI, the ICT-based platform?
A) Prahlad Patel
B) Narendra Modi
C) Amit Shah
D) Anurag Thakur
E) Nirmala Sitharaman
5) Who among the following has addressed the NCC rally in New Delhi?
A) Ram NathKovind
B) Venkiah Naidu
C) Prahlad Patel
D) Narendra Modi
E) Amit Shah
6) Bharat Parv has begun on a virtual platform showcasing the glory of the nation recently. It has been observed since which year?
A) 2012
B) 2013
C) 2014
D) 2015
E) 2016
7) Liberation War fighter from which of the following country has been awarded Padma Shri recently?
A) Singapore
B) Nepal
C) Bhutan
D) Bangladesh
E) Sri Lanka
8) Who among the following has recently flagged-off a fleet of electric buses in Andaman and Nicobar Islands?
A) Amit Shah
B) DK Joshi
C) NarendraModi
D) Anurag Thakur
E) Prahlad Patel
9) Which state has been selected for Special Award for Information Technology applications in Elections by the Election Commission of India?
A) Uttar Pradesh
B) Karnataka
C) Meghalaya
D) Kerala
E) Assam
10) Venkaiah Naidu has inaugurated an integrated weapons design centre in which of the following cities recently?
A) Chennai
B) Bengaluru
C) Surat
D) Pune
E) Hyderabad
11) Who among the following has recently taken over the command of Gajraj Corps?
A) Navin Nischal
B) Rajinder Dholakia
C) Anurag Verma
D) Ravin Khosla
E) Navin Singh
12) Syed Mustaq Ali Trophy 2020-21 is all set to be played in Ahmedabad. It is related to which sport?
A) Kabaddi
B) Cricket
C) Badminton
D) Tennis
E) Hockey
13) The PM of which country has resigned recently as he was unable to form and lead a new coalition government?
A) Sweden
B) Germany
C) Myanmar
D) Singapore
E) Italy
14) Who among the following has recently been awarded the MahaVir Chakra posthumously?
A) Col. Anurag Singh
B) Col. Rajesh Gupta
C) Col. SantoshBabu
D) Col. Anand Kumar
E) Col. SurajVishnoi
15) TCS has become the ________most valued IT services brand globally as per Brand Finance.
A) 6th
B) 5th
C) 4th
D) 3rd
E) 2nd
16) What is India's rank on the Climate risk Index?
A) 4th
B) 7th
C) 6th
D) 8th
E) 9th
17) Which country has recently inked a Strategic Partnership With the International Energy Agency?
A) Germany
B) Sweden
C) India
D) France
E) US
Answers :
1) Answer: C
Data Privacy Day is an international event that occurs every year on 28 January.
The purpose of Data Privacy Day is to raise awareness and promote privacy and data protection best practices.
It is currently observed in the United States, Canada, Israel and 47 European countries.
Surveys and industry reports show that many of us feel an increasing lack of control over our own data.
The theme for DPD 2021 is "Own Your Privacy."
Surveys and industry reports show that many of us feel an increasing lack of control over our own data.
2) Answer: D
In Maharashtra, Chief Minister Uddhav Thackeray inaugurated Balasaheb Thackeray Gorewada International Zoological Park in Nagpur.
The park has been developed by the State Forest Department and Forest Development Corporation.
It is spread across an area of 1,914 hectares and includes a wildlife sanctuary, Indian safari, African safari biodiversity park and night safari.
The park has been opened for the Indian safari.
Registration can be done on the website www.wildgorewada.com.
3) Answer: E
India has announced a pledge of $150,000 to activities of the Peacebuilding Fund this year and said that 2021 provides the international community with an opportunity to look at peace-building in a more focused manner.
India's Permanent Representative to the UN Ambassador T S Tirumurti.
The Peacebuilding Fund has put forth a comprehensive scenario covering a horizon of five years. The Fund requires 1.5 billion dollars for 2020-2024.
The recently concluded 2020 review of the UN peacebuilding architecture provides a framework to strengthen peace building collectively.
4) Answer: B
Prime Minister NarendraModi chaired the meeting of 35th edition of PRAGATI, the ICT based multi-modal platform for Pro-Active Governance and Timely Implementation, involving Central and State governments.
In the meeting, ten agenda items were taken for review including nine projects and one program.
Among the nine projects, three projects were from the Ministry of Railways, three from Ministry of Road Transport and Highways and one project each from Department of Promotion of Industry and Internal Trade, Power Ministry and Ministry of External Affairs.
These nine projects have a cumulative cost of 54 thousand 675 crore rupees concerning the 15 States.
The States are Odisha, Karnataka, Andhra Pradesh, Maharashtra, Chhattisgarh, Punjab, Jharkhand, Bihar, Telangana, Rajasthan, Gujarat, West Bengal, Haryana, Uttarakhand, and Uttar Pradesh.
5) Answer: D
Prime Minister NarendraModi will address the rally of the National Cadet Corps at Cariappa Ground in Delhi.
Defence Minister, Chief of Defence Staff and the three armed services Chiefs will also be present on the occasion.
The Prime Minister will inspect the Guard of Honour, review March Past by NCC contingents and witness cultural performance during the event.
6) Answer: E
Bharat Parv 2021, a festival to celebrate the spirit of India has begun on Jan 26, 2021.
The festival is being organised on a virtual platform www.bharatparv2021.com this year from Jan 26 to till 31st of January.
The mega event envisages generating patriotic fervour and showcases the rich and varied cultural diversity of the country.
The Ministry of Tourism organizes Bharat Parv every year since 2016 in front of the ramparts of the Red Fort on the occasion of Republic Day Celebrations.
PrasarBharati has set up its virtual stall which will showcase its efforts towards promoting Ek Bharat-Shrestha Bharat.
7) Answer: D
Bangladesh Liberation War fighter Lt. Col. (Retd.)QuaziSajjad Ali Zahir and well known musicologist, RabindraSangeet exponent and academic SanjidaKhatun from Bangladesh has been awarded the Padma Shri for the year 2021.
Padma awards are one of the highest civilian awards of the country.
The awards were announced on the eve of the Republic Day of India.
According to the official press release, 7 Padma Vibhushan, 10 Padma Bhushan and 102 Padma Shri awards have been conferred on people for their distinguished work in various fields.
8) Answer: B
D K Joshi, the Lieutenant Governor of Andaman and Nicobar Islands flagged-off a fleet of electric buses.
The project for 40 electric buses is being executed by NTPC VidyutVyapar Nigam Limited(NVVN Limited), a 100% subsidiary of NTPC Limited, a PSU under the Ministry of Power, Government of India.
The introduction of electric buses in the Island union territory will help cut down tailpipe emissions as well as provide comfortable public transport.
These buses will provide last mile connectivity to NAMMA Metro network.
9) Answer: C
The Office of the Chief Electoral Officer, Meghalaya was selected for a Special Award for Information Technology applications in Elections by the Election Commission of India (ECI), in the National Best Electoral Practices Awards-2020.
President Ram NathKovind virtually conferred the award to Meghalaya CEO F.R. Kharkongor at the National Voters' Day Award function held in New Delhi, a statement from the CEO's office informed.
10) Answer: E
Vice President M Venkaiah Naidu inaugurated the Integrated Weapons System Design Centre at DRDO's Dr APJ Abdul Kalam Missile complex in Hyderabad.
The facility would enhance the capability in design and development of command and control systems for surface-to-air missile (SAM) systems and ballistic missile defence (BMD) systems,
The DRDO officials briefed Naidu on the various ongoing projects and technological developments of missile complex laboratories  Defence Research and Development Laboratory (DRDL) and Research Centre Imarat (RCI).
The exposition will display missile technologies and weapon  systems and the centre will be the backbone for outreach activities.
11) Answer: D
The command of Indian Army's Frontier Gajraj Corps changed hands from Lieutenant General ShantanuDayal, to Lieutenant General RavinKhosla.
Lieutenant General Gen RavinKhosla brings with him immense operational experience and has served in important command and staff appointments both in Jammu and Kashmir and the North East.
He comes to Gajraj Corps from Integrated Headquarters of Ministry of Defence (Army), New Delhi where he was holding the appointment of Director General (Manpower Planning & Personnel Services).
The General Officer has served in Sri Lanka during Operation PAWAN.
For his illustrative service, he has been awarded the AtiVishishtSewa Medal, Sena Medal and the VishishtSeva Medal.
In addition to his professional pursuits, the general officer is also a keen sportsperson and an avid reader.
12) Answer: B
Syed Mustaq Ali Trophy 2020-21 will be played from 26-31 January, at Sardar Patel Stadium, Ahmedabad.
As per schedule, four quarter finals will be played from 26-27 January, two semi finals on January 29, with the final scheduled on January 31.
The Board of Control for Cricket in India (BCCI) has conducted a fresh round of Covid tests on the players who will be taking part in the knockouts of the Syed Mushtaq Ali National Twenty20 championship.
The eight teams which have qualified for the knockouts – Karnataka, Punjab, Tamil Nadu, Himachal Pradesh, Haryana, Baroda, Bihar and Rajasthan.
13) Answer: E
Italian Prime Minister Giuseppe Conte has resigned – and it is not clear if he will be able to form and lead a new coalition government.
Parties are divided over spending in the coronavirus crisis, in which more than 85,000 Italians have died.
Mr Conte met President Sergio Mattarella, who may ask him to form a stronger government.
He lost his Senate majority.
However media reports said, someone else could become Italy's PM, or a snap election could be called.
14) Answer: C
President has approved awards of 455 Gallantry and other Defence decorations to Armed Forces personnel and others.
Galwan valley hero Colonel B SantoshBabu, the Commanding Officer of 16 Bihar Regiment, who lost his life during the Galwan Valley clash last year, will be posthumously awarded with MahaVir Chakra.
SubedarSanjiv Kumar of 4th Battalion Parachute Regiment, CRPF Inspector Pintu Kumar Singh, CRPF Head Constable Shyam Narayan Singh Yadav, CRPF Constable Vinod Kumar will be posthumously awarded with Kirti Chakra.
15) Answer: D
Tata Consultancy Services Ltd. (TCS) is now the world's third most-valued IT services brand, only behind industry heavyweights Accenture Plc and International Business Machines Corp. (IBM), according to a report.
Four Indian IT services companies TCS, Infosys Ltd. (4), HCL Technologies Ltd. (7) and Wipro Ltd. (9) have secured spots in the Top-10 global rankings.
The brand value of HDFC Bank is recorded at USD 15 billion.
Accenture retained the title of world's most valuable and strongest IT services brand with a record brand value of $26 billion, while IBM continued at the second place with brand value of $16.1 billion.
16) Answer: B
India is among the top 10 most affected countries in the Global Climate Risk Index 2021 published by the Bonn-based environmental think tank Germanwatch.
India ranked as the Seventh worst hit country in terms of climate change in 2019.
It is the 16th edition of the report and has taken into account the data available for 2019 and from 2000 to 2019.
It caused catastrophic damage and a humanitarian crisis, making Mozambique and Zimbabwe the two most affected countries in 2019.
In the past 20 years (2000-2019), Puerto Rico, Myanmar and Haiti were the countries most affected by the impacts of such weather events.
17)  Answer: C
India and the International Energy Agency (IEA) signed a framework for a strategic partnership to strengthen mutual trust and cooperation and to enhance global energy security, stability and sustainability.
This partnership will lead to an extensive exchange of knowledge and would be a stepping stone towards India becoming a full member of the Paris-based IEA.
The Memorandum of Understanding was signed by SanjivNandanSahai, Secretary (Power) and Dr. FatihBirol, IEA Executive Director.
DrBirol termed the signing of the agreement as a historic moment and a huge step forward for global energy governance.