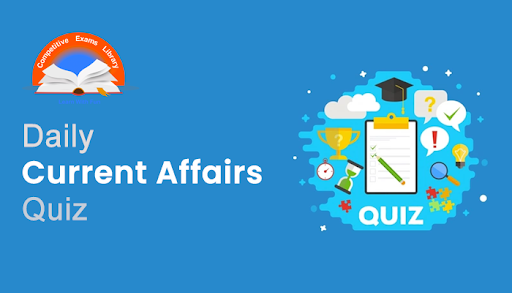 Dear Readers, Daily Current Affairs Questions Quiz for SBI, IBPS, RBI, RRB, SSC Exam 2021 of 29th January 2021. Daily GK quiz online for bank & competitive exam. Here we have given the Daily Current Affairs Quiz based on the previous days Daily Current Affairs updates. Candidates preparing for IBPS, SBI, RBI, RRB, SSC Exam 2021 & other competitive exams can make use of these Current Affairs Quiz.
1) Who among the following has recently inaugurated the Chennai Bench of NCLAT?
A) BansiLal Bhatt
B) Ram Nath Kovind
C) Nirmala Sitharaman
D) Amit Shah
E) Narendra Modi
2) Who among the following has become Estonia's first female prime minister?
A) Siim Kallas
B) Mailis Reps
C) Martin Helme
D) Kaja Kallas
E) Kersti Kaljulaid
3) The Supreme Court on January 27 has appointed who among the following as Member of a Technical Committee?
A) VK Paul
B) Naresh Chandra
C) Vikas Gupta
D) Ram Kumar
E) Nandita Hazarika
4) EC has rolled out digital voter I-cards. Which of the following is not among the states where e-voter cards will be used?
A) Tamil Nadu
B) West Bengal
C) Karnataka
D) Kerala
E) Assam
5) As per FICCI survey, India's GDP is expected to contract by _____ per cent in 2020-21.
A) 6
B) 8
C) 7.5
D) 7
E) 6.5
6) Which of the following state has launched a jail tourism initiative?
A) Gujarat
B) Bihar
C) Chhattisgarh
D) Maharashtra
E) Haryana
7) The Chief minister of which state has inaugurated the Jayalalithaa Memorial?
A) Himachal Pradesh
B) Madhya Pradesh
C) Tamil Nadu
D) Chhattisgarh
E) Haryana
8) The Union Minister of Coal and Mines Pralhad Joshi has assured that the proposed brownfield expansion of which company's smelter plant at Angul is very much on track?
A) BPCL
B) ONGC
C) BEL
D) HAL
E) NALCO
9) Which of the following bank has inaugurated an international banking unit at GIFT City in Gujarat?
A) Bandhan
B) HSBC
C) SBI
D) ICICI
E) HDFC
10) Dr. Harsh Vardhan has addressed the ______edition of Future Investment Initiative Forum.
A) 6th
B) 2nd
C) 4th
D) 5th
E) 3rd
11) Who among the following has launched the 'Work from Anywhere' portal, Tejas Virtual Intelligence tool at NICSI event?
A) Nirmala Sitharaman
B) Narendra Modi
C) Prahlad Patel
D) Ravi Shankar Prasad
E) Amit Shah
12) Who among the following has taken charge as Secretary in Textiles Ministry?
A) Prakash Gupta
B) Anand Raj
C) Ashish Singh
D) Naresh Mehta
E) UP Singh
13) Textiles Committee signed MoU with the Nissenken Quality Evaluation Centre of which country?
A) Italy
B) France
C) Japan
D) Germany
E) Sweden
14) The Central government has cleared the names of _____ officials as new managing directors of SBI.
A) 6
B) 2
C) 3
D) 4
E) 5
15) Which state's tableau has bagged the first prize on Republic Day?
A) Karnataka
B) Madhya Pradesh
C) Haryana
D) Chhattisgarh
E) Uttar Pradesh
Answers :
1) Answer: C
Union Minister for Finance and Corporate Affairs Smt. NirmalaSitharaman inaugurated the Chennai Bench of National Company Law Appellate Tribunal (NCLAT) through virtual mode.
The inaugural ceremony was held in the presence of Shri. Justice BansiLalBhat, Acting Chairperson, NCLAT, Shri Rajesh Verma, Secretary, Ministry of Corporate Affairs, other members of NCLAT and the National Company Law Tribunals, officers of Ministry of Corporate Affairs, Ministry of Finance as well as members of the Bar.
The New Delhi Bench of NCLAT is the Principal Bench of the National Company Law Appellate Tribunal established in 2016.
Five new Benches of NCLT have been announced at Jaipur, Cuttack, Kochi, Indore and Amaravati, bringing the total number of Benches to 16 (including the Principal Bench). The NCLAT now functions at a strength of 5 courts, 4 at the Principal Bench in New Delhi and the 5th at NCLAT, Chennai.
The Chennai Bench of NCLAT shall have jurisdiction to hear the Appeals arising out of the orders passed by the benches of NCLT having jurisdiction of Karnataka, Tamil Nadu, Kerala, Andhra Pradesh, Lakshadweep and Puducherry.
Two Members of NCLAT, New Delhi, Hon'bleShri.Balvinder Singh, Member (Technical) and Hon'ble.Shri. Justice Venugopal M. have taken charge of the newly constituted Chennai Bench of the NCLAT.
2) Answer: D
Kaja Kallas, the leader of the Reform Party, has become Estonia's first female prime minister.
Estonia would thus currently become the only country in the world where both the president and the prime minister are women.
Kaja Kallas was nominated to form the government by the Estonian president, Kersti Kaljulaid, on 14 January
The Reform Party, led by Kallas, won the 2019 parliamentary election in Estonia with 34 MPs in the country's 101-seat parliament, Riigikogu.
3) Answer: E
The Supreme Court on January 27 appointed conservationist NanditaHazarika as Member of a Technical Committee constituted by it on October 14 last year to hear complaints by landowners against the action taken by the Nilgris Collector, which included sealing of their buildings and allegations about the "arbitrary variance in acreage of the elephant corridor."
On October 14, the top court upheld the Tamil Nadu government's authority to notify an 'elephant corridor' and protect the migratory path of the animals through the Nilgiri biosphere reserve.
The corridor is situated in the ecologically fragile Sigur plateau, which connects the Western and the Eastern Ghats and sustains elephant populations and their genetic diversity.
4) Answer: C
The Election Commission rolled out the electronic version of the voters' photo identity card on the National Voters' Day.
The electronic voter ID cards can be stored on mobile phones and downloaded on personal computers.
The e-voter card, available in the PDF format which cannot be edited, can be self-printed and laminated by the voter when required.
With its formal launch, electors in poll-bound West Bengal, Tamil Nadu, Assam, Kerala and Puducherry can use e-voter cards on polling days. Elections are due in these states and the union territory in April-May.
The e-elector photo identity card is a non-editable digital version of the elector photo identity card and can be saved in facilities such as a digital locker as well as can be printed in the PDF format.
The physical card takes time to print and reach the voter, and the idea is to provide faster delivery and easy accessibility to the document.
Apart from voter ID cards, Aadhaar card, permanent account number (PAN) card and driving licence are also available in digital mode.
5) Answer: B
India's gross domestic product (GDP) is expected to contract by 8 per cent in 2020-21, according to the latest round of FICCI's Economic Outlook Survey.
The annual median growth forecast by the industry body is based on responses from leading economists representing industry, banking and financial services sector.
The survey was conducted in January.
The median growth forecast for agriculture and allied activities has been pegged at 3.5 per cent for 2020-21.
"Agriculture sector has exhibited significant resilience in the face of the pandemic.
Higher rabi acreage, good monsoons, higher reservoir levels and strong growth in tractor sales indicate continued buoyancy in the sector," FICCI stated on the survey findings
6) Answer: D
Maharashtra Chief Minister Uddhav Thackeray launched a 'jail tourism' initiative of the state government from Pune's Yerawada prison, in a move to help students learn about historical experiences.
The initiative was launched on January 26 via video conferencing.
Yerawada jail is 150-years-old where several freedom fighters, including Mahatma Gandhi, LokmanyaTilak, Pandit Jawaharlal Nehru, SardarVallabhbhai Patel, Sarojini Naidu and Subhas Chandra Bose had been imprisoned under the British rule.
The 'jail tourism' was started to make students aware of the history.
The jail has witnessed many historical events like the Pune-pact that was signed within the premises of this jail.
In recent times the accused of 26/11 Mumbai blasts AjmalKasab was hanged here on November 21, 2012."
7) Answer: C
Tamil Nadu Chief Minister EdappadiPalanisamy inaugurated Jayalalithaa Memorial at Chennai.
The 79 crore worth grand memorial is built on a nine acre land situated on the shores of the Marina Beach.
The phoenix shaped memorial has a statue of Jayalalithaa and MGR with an artificial waterfall.
The building was completed within a record period of 30 months.
Scores of AIADMK workers from all districts thronged the city to witness the event.
8) Answer: E
Union Minister of Coal and Mines Pralhad Joshi has assured that the proposed brownfield expansion of National Aluminium Company Limited (NALCO)'s smelter plant at Angul is very much on track and will be executed on priority.
The Navaratna PSU has planned to invest around Rs 30,000 crore by 2027-28 on expansion and diversification.
Around Rs 22,000 crore will be invested on the expansion of the company's aluminium smelter unit from 0.46 million tonne per annum (MTPA) to 1 MTPA and construction of a 1400-MW feeder captive power plant (CPP) in Angul.
9) Answer: B
Global financial services major HSBC inaugurated its International Banking Unit (IBU) branch at GIFT City near Gandhinagar city in Gujarat.
HSBC is one of the earliest global financial institutions setting up a branch at India's GIFT City and was the first bank to get a licence from the newly set up International Financial Services Centres Authority (IFSCA).
HSBC's IBU branch at Gujarat International Finance Tec City (GIFT City) will be operational for customer transactions with effect from January 27.
HSBC has been present in the country for more than 160 years and its fourth branch globally was opened in India.
HSBC operates in all of the leading international financial service hubs in the world, and looks forward to the development of GIFT City as a globally competitive international financial centre.
10) Answer: C
Dr. Harsh Vardhan, Union Minister for Health and Family Welfare addressed the 4th edition of the Future Investment Initiative Forum, through a Video Conference.
The purpose of the forum being hosted in Riyadh was to find solutions on how business and government can expand access to healthcare, train healthcare workers, remove regulatory barriers and encourage investment in advanced health technologies.
Hosted by Public Investment Fund of Saudi Arabia
It was held for the first time in October 2017.
In that Forum Dr Harsh Vardhan highlighted the five big trends which are emerging due to COVID-19 and influencing global business:
The impact of Technology and Innovation
Importance of Infrastructure for Global Growth
Changes coming in human resource and future of work
Compassion for environment
Business friendly governance with focus on whole of society and government approach
11) Answer: D
IT and Communications Minister Ravi Shankar Prasad will launch virtual intelligence tool Tejas and 'Work from Anywhere' portal.
The National Informatics Centre Services Inc (NICSI), a public sector enterprise under the National Informatics Centre (NIC), will celebrate 25 years of its establishment at an event.
Tejas, a virtual intelligence tool that extracts critical information from data to make its meaningful information for policy decisions and improving efficiency in government services and citizen delivery.
It will also launch 'e-Auction India' to cater to electronic forward and reverse auction requirements of the government organisations serving online 24×7.
Also launch 'Work from Anywhere' portal, a virtual environment that enables employees to "access routine applications like e-office, calendar, mail, and other departmental applications and communicate across through VC ensuring safety during this pandemic with social distancing and work assurance from anywhere.
12) Answer: E
Shri U. P. Singh, a 1985 batch Indian Administrative Service Officer (IAS) of Odisha Cadre has taken over as Secretary, Ministry of Textiles, Government of India.
Prior to this, he held the post of Secretary in the Department of Water Resources, River Development & Ganga Rejuvenation, Ministry of Jal Shakti.
He joined the Ministry of Water Resources & River Development and Ganga Rejuvenation on 1.6. 2016 as Additional Secretary and also held the post of Mission Director, National Water Mission (NWM). Later he assumed the charge of Director General, National Mission for Cleaning Ganga (NMCG).
He has the experience of working in different sectors like Water Resources, Finance, Steel, Transport, etc. He had been deeply involved in policy, planning and management of water resources in India.
13) Answer: C
The Textiles Committee of the Ministry of Textiles has signed a Memorandum of Understanding- MoU with Nissenken Quality Evaluation Centre, Japan to boost export of Textile and Apparel to Japanese market.
The MoU signing ceremony was held through video conferencing which was presided over by Minister of Textiles SmritiIrani and State Minister of Economy, Trade and Industry of Japan YasumasaNagasaka.
The main objective of the MoU is to provide required support to textile's trade and industry for ensuring quality as per the requirement of Japanese buyers.
The MoU will strengthen the bilateral trade by enhancing India's export of Textile and Apparels to Japan, which is the third largest export destination of the world.
14) Answer: B
The Appointments Committee (ACC) of the Cabinet cleared the names of two officials — SwaminathanJanakiraman and Ashwini Kumar Tewari as new managing directors of State Bank of India (SBI) for a period of three years.
Both Tewari and Janakiraman, are eligible for the extension of their term of office after a review of their performance, according to an order issued by the Department of Personnel & Training.
Currently, both are working with SBI.
While Tewari is serving as MD and CEO of SBI Card, Janakiraman is working as the deputy managing director (finance), SBI.
15) Answer: E
The Ram Temple tableau of Uttar Pradesh that was on display during the Republic Day has bagged the first prize among all tableaux.
Defence Minister Rajnath Singh will be giving away the first prize to Uttar Pradesh for its tableau.
The Ram Temple tableau evoked strong reactions from the public.
It is reported that the people present to witness the parade at the Rajpath applauded when the model of the upcoming Ram Temple in Ayodhya made an appearance.
The tableau provided the glimpse of the temple that began its construction recently.
As for the setting of the tableau, it showcased Maharishi Valmiki composing the Ramayana, followed by a model replica of the Ram temple that showed how it would look after its construction.
It is for the first time that the Uttar Pradesh tableau showcased a glimpse of the Ram Temple that is being built in Ayodhya.
The Tripura tableau won the second prize for the Republic Day parade.
The third prize was received by Uttarakhand's tableau which was themed around Kedarkhand.