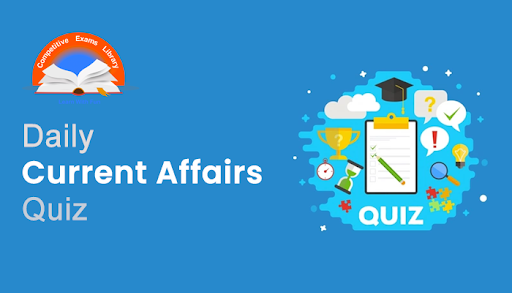 Dear Readers, Daily Current Affairs Questions Quiz for SBI, IBPS, RBI, RRB, SSC Exam 2021 of 30th March 2021. Daily GK quiz online for bank & competitive exam. Here we have given the Daily Current Affairs Quiz based on the previous days Daily Current Affairs updates. Candidates preparing for IBPS, SBI, RBI, RRB, SSC Exam 2021 & other competitive exams can make use of these Current Affairs Quiz.
1) Who among the following recently met the Afghanistan President Ashraf Ghani to have a discussion on the Afghan peace process?
A) Nitin Gadkari
B) Anurag Thakur
C) S Jaishankar
D) Amit Shah
E) Narendra Modi
2) India along with which country have agreed to the Strategic Energy Partnership?
A) Japan
B) Israel
C) US
D) France
E) Germany
3) The Central government has gained multiple EoI for privatisation of which of the following company?
A) IOCL
B) BPCL
C) HPCL
D) Neelachal Ispat Nigam
E) Rashtriya Ispat
4) RBI has further extended limitations on PMC Bank for 3 months till which of the following date?
A) September 30
B) August 30
C) May 30
D) July 31
E) June 30
5) Denis Sassou Nguesso has been re-elected as President of which country?
A) Somalia
B) Congo
C) Sudan
D) Ethiopia
E) Burundi
6) Jal Jeevan Mission has achieved a new milestone with the tap water to over _____ crore rural households.
A) 7
B) 8
C) 6
D) 4
E) 5
7) Who among the following has launched a new version of 'Exam Warriors' ?
A) Nitin Gadkari
B) Harsh Vardhan
C) NS Tomar
D) Amit Shah
E) Narendra Modi
8) 2020 was the Best Year for Wind Industry as per the Report released by Global Wind Report 2021. This was the ____annual flagship report.
A) 19th
B) 18th
C) 16th
D) 15th
E) 17th
9) EAM recently attended the _____ Ministerial Conference of 'Heart of Asia – Istanbul Process on Afghanistan' in Tajikistan.
A) 7th
B) 8th
C) 11th
D) 9th
E) 10th
10) Who among the following has been appointed as Chairman Emeritus – appointed by FIDC?
A) Rajeshwar Pandey
B) Naresh Singh
C) UK Sinha
D) Ratan Tata
E) TT Srinivasaraghavan
11) Who among the following has bagged the 2021 Rathbones Folio Literary prize?
A) Hadley Chase
B) Francesa James
C) Carmen Maria Machado
D) Felix Berger
E) Anthony Naples
12) Which institution along with Biovet and Sapigen Biologix have collaborated with CSIR-IICT?
A) Pfizer
B) Bharat Biotech
C) ICMR
D) ICAR
E) Cipla
13) Which company has recently secured Shapoorji Pallonji stake in cooperation with LNG terminal?
A) DRDO
B) ONGC
C) IOCL
D) HPCL
E) BPCL
14)  "World Development Report 2021: Data for Better Lives" released by which organisation?
A) Organisation for Economic Co-operation and Development
B) Food and Agriculture Organization
C) World Health Organization
D) International Development Association
E) World Bank
15) Dr. Harsh Vardhan recently addressed the _____ annual summit of NATHEALTH.
A) 6th
B) 5th
C) 7th
D) 8th
E) 9th
16) Which country has recently conducted a joint patrol in Madagascar EEZ?
A) France
B) China
C) US
D) India
E) Japan
17) EIYP has recently acquired ______ per cent stake in Engie's solar assets in India.
A) 80
B) 74
C) 51
D) 49
E) 26
18) KC Chakrabarty who passed away at 68 was an eminent ____.
A) Hockey Player
B) Producer
C) Actor
D) Singer
E) Banker
Answers :
1) Answer: C
External Affairs Minister S Jaishankar met Afghanistan President Ashraf Ghani and had a discussion on the Afghan peace process.
Dr Jaishankar and Mr Ghani are in Dushanbe to attend the ninth Heart of Asia-Istanbul Process conference.
Tajikistan is hosting the conference which is focused on strengthening a regional and international consensus for Afghan peace.
Afghan Foreign Minister Haneef Atmar visited India and held-back-to-back talks with Dr Jaishankar and NSA Ajit Doval.
In New Delhi, the Afghan Foreign Minister during his meeting with Dr Jaishankar on the peace process, the two sides reviewed the Troika Peace Meeting in Moscow and assessed the final declaration of the meeting as positive for strengthening and advancing the peace process.
2) Answer: C
Petroleum Minister Dharmendra Pradhan and US Secretary of Energy, Jennifer Granholm have agreed to revamp India-US Strategic Energy Partnership (SEP).
Mr. Pradhanb held an introductory meeting virtually with him and reviewed the SEP.
The two leaders agreed to revamp the India-US SEP to reflect the new priorities of Prime Minister Narendra Modi and President Joe Biden with focus on promoting clean energy with low-carbon pathways and accelerating green energy cooperation.
During the meeting, they also agreed to prioritize greater collaboration in cleaner energy sector and joint R&D through Partnership to Advance Clean Energy Research among other initiatives.
Besides, both sides agreed to convene the third meeting of a revamped India-US SEP at an early date.
They decided to intensify the efforts to take advantage of the complementarities of both the countries -advanced US technologies and rapidly growing India's energy market, for a win-win situation through a cleaner energy route with low carbon pathways.
3) Answer: D
Government has received multiple expressions of interest for privatisation of Neelachal Ispat Nigam Ltd (NINL).
In a tweet, Secretary, Department of Investment and Public Asset Management, Tuhin Kanta Pandey said the transaction moves ahead to the second stage, on schedule.
Earlier, the government had invited bids to privatise NINL seeking to divest 93.7 per cent stake held by four central public sector enterprises and two Odisha government PSUs.
In January last year, Cabinet Committee on Economic Affairs had given in principle  approval for strategic disinvestment of equity shareholding of Minerals and Metals Trading Corporation Limited, National Mineral Development Corporation, MECON and Bharat Heavy Electricals Ltd as well as two Odisha State Government PSUs in Neelachal Ispat Nigam Limited to a strategic buyer identified through a two-stage auction procedure.
4) Answer: E
The Reserve Bank of India (RBI) has once again extended the restriction imposed on scam-hit Punjab and Maharashtra Cooperative (PMC) Bank for a further period of 3 months till June 30, 2021.
The restriction puts curbs on the withdrawals and deposits activity of the lender.
This restriction was first placed in September 2019, and since then has been consecutively extended.
The previous restriction was set to expire on March 31, 2021.
5) Answer: B
The Congolese politician Denis Sassou Nguesso has been re-elected president of the Republic of the Congo with 88.57 percent of the vote.
The 77-year-old has been ruling the country for 36 years.
He first won the presidential election in 1979 and ruled for three consecutive terms till 1992.
6) Answer: D
Jal Jeevan Mission has achieved a new milestone of providing over 4 Crore rural households with tap water supply.
The mission was announced by Prime Minister Narendra Modi on 15th August, 2019, with the aim to provide tap water supply to every rural home by 2024.
Now, 7.24 Crore, more than 1/3rd of rural households are getting potable water through taps.
Goa has become the first State in the country to provide 100 percent tap water supply followed by Telangana and Andaman and Nicobar Islands.
The untiring efforts of States and UTs have helped Jal Jeevan Mission provide assured tap water supply to every family living in 56 districts and over 86 thousand villages.
States and UTs are now competing with each other and focusing on the target to ensure that every household in the country gets safe drinking water, so that no one is left out.
7) Answer: E
The new version of Exam Warriors written by Prime Minister Narendra Modi is now available with many new mantras for students as well as parents.
It is available at retail stores as well as online.
The Exam Warriors module is also available on the NaMo App.
Mr Modi said, the new edition of the book has been enriched with valuable inputs from students, parents and teachers.
Substantive new parts have been added that would especially interest the parents and teachers.
He said the book reaffirms the need to remain stress free before an exam.
The Prime Minister added that it has many interactive activities for students and parents.
8) Answer: C
Despite the COVID-19 pandemic, the year 2020 was the best year in history for the global wind industry as this sector installed 93GW of new capacity in 2020, according to a new report titled 'Global Wind Report 2021, released by the Global Wind Energy Council (GWEC- Headquarters location: Brussels, Belgium).
This is the 16th annual flagship report, released by GWEC on March 25, 2021.
The 93GW represents a 53% year-on-year increase.
9) Answer: D
External Affairs Minister Dr S Jaishankar will attend the 9th Ministerial Conference of Heart of Asia – Istanbul Process on Afghanistan at Dushanbe in Tajikistan.
Dr Jaishankar reached Dushanbe on a three day visit.
He called on President of Afghanistan Ashraf Ghani before the commencement of the Heart of Asia Conference.
Mr Ghani and Dr Jaishankar shared the perspectives on the peace process.
As the lead country for Trade, Commerce and Investment Confidence Building Measure under Heart of Asia – Istanbul Process, India has made concerted efforts for strengthening regional connectivity for the greater economic integration of Afghanistan with the region.
A dedicated Air Freight Corridor between cities of India and Afghanistan and operationalisation of Chabahar Port in Iran are steps in that direction.
India, as an important stakeholder for peace, prosperity and stability in Afghanistan has played a constructive role in the international processes on Afghanistan.
India has engaged regional and international stakeholders on Afghanistan.
The visit will further enhance the outreach to Central Asian countries with a special focus on Afghanistan.
10) Answer: E
Finance Industry Development Council has appointed T T Srinivasaraghavan, Managing Director, Sundaram Finance Ltd. as Chairman Emeritus, FIDC and Sanjay Chamria, VC & MD, Magma Fincorp & Umesh Revankar, MD, Shriram Transport Finance Co. Ltd. as its Co-Chairmen with effect from April 1, 2021.
Ramesh Iyer, Chairman, FIDC said that, TTS Sir has been with the NBFC Sector since more than 40 years and his honesty and wisdom, experience and exposure is known and acknowledged by one and all.
Even Reserve Bank of India and other Government authorities look at him with utmost respect.
He has been the Torch-bearer of NBFC Sector during good times and bad times and his joining FIDC for life will immensely benefit FIDC and NBFC Sector.
T T Srinivasaraghavan, Chairman Emeritus, FIDC said, "I am greatly humbled by this gesture on the part of FIDC.
It has been my privilege to serve this industry for nearly four decades and I look forward to contributing in whatever way I can to support the excellent work being done by the FIDC management team."
11) Answer: C
Noted American author Carmen Maria Machado has won the Rathbones Folio prize for the year 2021.
The 34-year-old author has won for her memoir, In the DreamHouse, released in 2019.
In the book, the author outlines her experiences in a same-sex relationship with her former partner, and the abuse she was subjected to.
The Rathbones Folio Prize is a literary award that was launched by London-based publisher The Folio Society in the initial two years, that is 2014-2015.
Then with a gap in 2016, from 2017 Rathbone Investment Management joined as the sponsor and the name changed from Folio Prize.
12) Answer: B
Vaccine developers Bharat Biotech International, Biovet and Sapigen Biologix on March 29 collaborated with CSIR-Indian Institute of Chemical Technology to enhance indigenous vaccines and health care solutions.
Reportedly, CSIR-IICT will be funded by the pharmaceutical firms to innovate and develop affordable healthcare technologies for humans and animals.
Initiated under the Aatmanirbhar Bharat Vision, the master collaborative agreement aims to strengthen the innovation ecosystem by pooling the expertise of CSIR labs.
13) Answer: D
State-run Hindustan Petroleum Corporation Ltd (HPCL) will buy out the share of its JV (joint venture) partner SP Ports Pvt. Ltd (SPPPL) in 5 million metric tonnes per annum (MMTPA) LNG re-gasification terminal at Chhara, Gujarat.
HPCL, in a regulatory filing on, March 28, announced that it has "has entered into a share purchase agreement (SPA) dated March 27, 2021 ("Share Purchase Agreement") for acquisition of 50% of the paid-up equity share capital of the Target Entity from SP Ports Private Limited.
"The company further stated that the acquisition is likely to be concluded by March 31, 2021, and doesn't require regulatory approval.
14) Answer: E
The "World Development Report 2021: Data for Better Lives" was released by the World Bank on March 24, 2021.
The World Development Report focuses on how data can improve the lives of poor people and advance development objectives, to ensure no one is left behind.
It highlights the tremendous potential of the changing data landscape to improve the lives of poor people, at the same time acknowledging its potential to open back doors that can harm individuals, businesses, and societies.
Through this report, the World Bank aims to support its client countries by identifying where public and private sector investments are the most critical, defining a rich program for policy reform and technical assistance, and highlighting areas in which global initiatives can help to convene and facilitate cross-border cooperation.
15) Answer: C
Dr Harsh Vardhan, Union Minister for Health and Family Welfare addressed the 7th annual summit of NATHEALTH.
The Summit was Focusing on 'Indian Health system expansion in post-COVID era'
It is a 2-day virtual summit held on 25 and 26 March 2021.
The Summit was organised by NATHEALTH-Healthcare Federation of India, to bring the healthcare industry together to engage, collaborate and deliberate, to unveil a path together and emerge resilient in the aftermath of the COVID-19 pandemic.
16) Answer: D
In the first, the navies of India and Madagascar conducted joint patrolling of Madagascar's Exclusive Economic Zone (EEZ) and also conducted a Passage Exercise (PASSEX).
It is the first-ever joint patrol between the navies reflects the growing defence ties between the two Indian Ocean neighbours aimed at the common objective of ensuring maritime security in the Indian Ocean Region (IOR)
Indian Navy's INS Shardul and Malagasy Naval Ship Trozona undertook Joint Patrol of Madagascar's Exclusive Economic Zone and participated in PASSEX.
The first ever Joint Patrol between the navies of India and Madagascar reflect the growing defence ties between the two Indian Ocean neighbours aimed at the common objective of ensuring maritime security in the Indian Ocean Region.
A 4-member delegation led by Major General Léon Jean Richard RAKOTONIRINA, Minister of National Defence of Madagascar had visited India from February 3-5 to participate in the Aero India 2021 and IOR Defence Ministers Conclave at Bengaluru.Indian Naval Ship Shardul had arrived at port of Antsiranana, Madagascar on March 21 for Overseas Deployment of a training squadron headed by Captain Aftab Ahmed Khan.
17) Answer: B
On March 25th, 2021, Edelweiss Infrastructure Yield Plus (EIYP), an alternative investment fund by Edelweiss Alternative Asset Advisors, acquired 74 per cent stake in French energy major, Engie Group's, solar portfolio in India.
The Engie Group has 813 MW of operational solar assets in the country, and it plans to add up to 2 GW more over next couple of years, which once commissioned will be acquired by the EIYP
This partnership between EIYP and Engie is aimed at creating a high-quality solar platform of substantial scale with a plan to add 2 GW solar assets over the next couple of years.
These assets will be developed by Engie and acquired by EIYP post-commissioning under the agreed term.
With an AUM of over Rs 30,500 crore, the EAAA provides long-term growth capital to companies and projects.
This investment is in line with EIYP's strategy to generate regular yields and create value for its investors by taking controlling stake in quality operating infrastructure assets with strong cash flows, the fund said.
18) Answer: E
Former Reserve Bank of India (RBI) Deputy Governor & Veteran banker Kamalesh Chandra Chakrabarty passed away
He was 68.
About KC Chakrabarty :
He started his career teaching at the Banaras Hindu University (BHU).
He was a gold medalist in MSc statistics and held a doctorate in the same subject from BHU.
Chakrabarty, who had spent nearly four decades across multiple public sector banks.
He was the Deputy Governor of the central bank between June 15, 2009 and April 25, 2014.
After he resigned three months before his term concluded.
He also served as the Chairman and Managing Director of Punjab National Bank (2007-2009)
and CMD of Indian Bank (2005-2007).