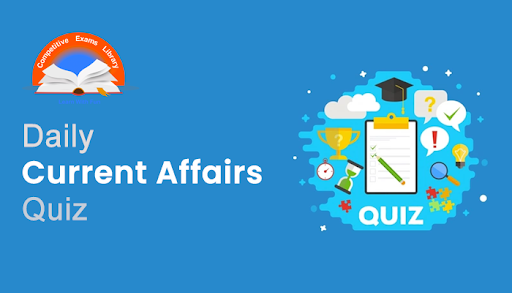 Dear Readers, Daily Current Affairs Questions Quiz for SBI, IBPS, RBI, RRB, SSC Exam 2021 of 31st March 2021. Daily GK quiz online for bank & competitive exam. Here we have given the Daily Current Affairs Quiz based on the previous days Daily Current Affairs updates. Candidates preparing for IBPS, SBI, RBI, RRB, SSC Exam 2021 & other competitive exams can make use of these Current Affairs Quiz.
1) International Day of Drug Checking is observed on which of the following date?
A) March 7
B) March 2
C) March 31
D) March 12
E) March 5
2) Who among the following has inaugurated the Anandam The Center for Happiness in IIM Jammu?
A) NS Tomar
B) Amit Shah
C) Anurag Thakur
D) Ramesh Pokhriyal 'Nishank'
E) Prahlad Patel
3) I&B Minister flagged off DEMU train from Phaltan to which city?
A) Gwalior
B) Surat
C) Chandigarh
D) Delhi
E) Pune
4) International Transgender Day of Visibility is observed on which date?
A) March 11
B) March 31
C) March 12
D) March 14
E) March 13
5) Which has become the second country after India to pass Miscarriages Bereavement Leave Law?
A) France
B) Germany
C) Japan
D) New Zealand
E) China
6) World Backup Day is Observed on which of the following date?
A) March 11
B) March 13
C) March 31
D) March 15
E) March 3
7) Cyber criminals recently attacked MIDC computer systems last week in which state?
A) Kerala
B) Chhattisgarh
C) Uttar Pradesh
D) Madhya Pradesh
E) Maharashtra
8) The government of which state/UT has assembled a one day awareness programme for farmers?
A) Madhya Pradesh
B) Delhi
C) Chandigarh
D) J&K
E) Kerala
9) India real GDP growth to be 7.5 to 12.5 per cent based on a report of ______.
A) ECB
B) World Bank
C) IMF
D) SBI
E) HDFC
10) RBI has announced an average base rate of _____ per cent % for NBFC-MFIs.
A) 3.5
B) 5.5
C) 6.5
D) 8.5
E) 7.81
11) A P Moller-Maersk decided to appoint chief technology officer _______to the board.
A) Ramesh Pandey
B) Nitish Verma
C) Navneet Kapoor
D) Suresh Suri
E) Anand Tiwary
12) SpiceJet has signed an MoU with which company recently?
A) Max Capital
B) Kekst & Co
C) Fogarty
D) Avenue Capital
E) Arcil
13) The Central government will make _____ new routes operational in the last three days under UDAN scheme.
A) 21
B) 22
C) 23
D) 24
E) 25
14) Who among the following has won the Bahrain Grand Prix 2021?
A) Louis Norris
B) Sam Perez
C) Lewis Hamilton
D) Max Verstappen
E) Valtteri Bottas
15) Indian Navy will Participate in French Naval Exercise in Bay of Bengal with QUAD member Countries which will start from which date?
A) April 11
B) April 2
C) April 3
D) April 4
E) April 5
16) BPCL has sold the entire ______ per cent stake in Numaligarh refinery for Rs 9,876 cr.
A) 21.5
B) 51.5
C) 61.5
D) 41.5
E) 31.5
17) Which shipyard has delivered the MV Sindhu a 500 pax passengers cum 150 MT cargo vessel?
A) Naval Dockyard
B) Mazagon Dock Limited
C) Chennai Shipyard
D) Cochin Shipyard
E) Goa Shipyard
18) NAME PLACE ANIMAL THING – Debut book has been written by who among the following?
A) Rajat Sinha
B) Daribha Lyndem
C) Anil Rathi
D) Navneet Singh
E) Anand Mahindra
19) Who has become the First Sri Lankan To Hit Six Sixes In An Over?
A) Sidath Wettimuny
B) Ranjan Madugalle
C) Thisara Perera
D) Roy Dias
E) Ashantha de Mel
20) In the ISSF Shooting World Cup which country has topped the medals tally with 15 gold, 9 silver & 6 bronze?
A) Germany
B) France
C) South Korea
D) Japan
E) India
21) Which company and Thalamus Irwine, a local startup have come together to develop a technology for storing medical data on blockchain.?
A) Dell
B) HP
C) ITI
D) TCIL
E) TCS
Answers :
1) Answer: C
The International Day of Drug Checking takes place on March 31 every year since 2017 to ensure people are educated on drugs and aware of their effects.
The day aims to promote harm reduction initiatives of drugs and reduce drug-related risks.
Objectives:
Raise awareness of drug checking as a harm-reduction approach so that more people can have the opportunity to check their drugs to make more informed decisions.
Promote the use of personal drug-checking using home reagent testing kits, which are easily attainable online.
2) Answer: D
Union Minister of Education Shri Ramesh Pokhriyal 'Nishank' inaugurated "Ānandam: The Center for Happiness" virtually on March 30, 2021 at Indian Institute of Management (IIM) Jammu.
The name 'Ānandam' is taken from the Indian wisdom tradition where the pure consciousness is known as "anandam".
The Centre will work for the well-being of all by incorporating happiness in the academic curriculum of students, which includes knowing the truth, doing well and enjoying the beauty around.
Lieutenant Governor Manoj Sinha, Founder of Art of Living Foundation, Sri Sri Ravi Shankar also virtually graced the occasion.
Pokhriyal congratulated IIM Jammu for the new venture and defined the need for Ānandam.
He said that incorporating happiness in the academic curriculum of students is a very crucial step towards empowering the nation.
3) Answer: E
Information and Broadcasting Minister Prakash Javadekar flagged off DEMU train from Phaltan to Pune via Lonand through video conferencing.
The new train will provide better transport facilities to the people of the region.
Mr Javadekar mentioned, Railway has taken several measures to provide better facilities to commuters.
This includes introduction of Bio-toilets, wifi facility and simplified reservation on IRCTC.
He said more than five thousand Railway stations have been provided with Wi-Fi which enable passengers to access the World Wide Web and opened their horizon of knowledge.
4) Answer: B
International Transgender Day of Visibility is an annual event occurring on March 31 dedicated to celebrating transgender people and raising awareness of discrimination faced by transgender people worldwide, as well as a celebration of their contributions to society.
The day was founded by US-based transgender activist Rachel Crandall of Michigan in 2009.
5) Answer: D
The New Zealand Parliament has recently passed legislation to provide leave for miscarriage and for stillbirth
The Bill allows mothers and their partners the right to paid leave following a miscarriage or still birth, without having to tap into sick leave.
Employees will get three days leave when a pregnancy ends with a stillbirth.
With this, New Zealand has become only the second country in the world to do so.
India is the only other country in the world with similar legislation that provides leave for miscarriage and stillbirth.
6) Answer: C
World Backup Day is marked every year on March 31 the day aims to reminds us to protect our precious digital documents as we've become more reliant on technology.
It is a day for people to learn about the increasing role of data in our lives and the importance of regular backups.
Originally, the World Backup Day began as World Backup Month, by a hard drive company named Maxtor which was later acquired by Seagate Technology.
7) Answer: E
In Maharashtra, cyber criminals attacked Maharashtra's Industrial Development Corporation's (MIDC) computer systems last week.
MIDC, in a statement said, cyber attackers have sent an email asking ransom.
All the systems of MIDC are hosted on private and local servers and it uses Trend Micro antivirus.
Infected computers were immediately disconnected from the network to minimize the impact.
But the virus has affected works at regional offices of MIDC.
The corporation has registered a complaint with Mumbai Police's cyber unit and various measures are being taken up to minimize the impact of the attack and to further enhance systems.
8) Answer: D
In the Union Territory of Jammu and Kashmir, as part of Azadi Ka Amrut Mahotsav celebrations, a one-day awareness programme for farmers was organized by the Revenue Department at Revenue Training Complex, Jammu.
A detailed presentation was given by Regional Director Surveys & Land Records, through which the farmers were informed about the Digital India Land Records Modernisation Programme, (DILRMP) under which, an Integrated Land Information Management System is being developed across the country, which includes geo-mapping of land and digitization of revenue records.
9) Answer: B
India's economy has bounced back amazingly from the COVID-19 pandemic and nationwide lockdown over the last one year, but it is not out of the woods yet, according to the World Bank, which in its latest report has predicted that the country's real GDP growth for fiscal year 21/22 could range from 7.5 to 12.5 per cent.
The Washington-based global lender, in its latest South Asia Economic Focus report released ahead of the annual spring meeting of the World Bank and the International Monetary Fund (IMF), said that the economy was already slowing when the COVID-19 pandemic unfolded.
10) Answer: E
Various loans offered by Non-Banking Finance Companies (NBFC) and Micro Finance institutes (MFI) are expected to be cheaper from April 1.
Reserve bank of India communicated that the applicable base rate to be charged as 7.81 per cent.
It is lower by 15 basis points (0.15 %) as compared to the current quarter.
Last year it was 8.76 during the same period.
On the last working day of every quarter, RBI advises interest rates to be charged by NBFC-MFIs to their borrowers in the ensuing quarter.
It is based on the average of the base rates of the five largest commercial banks.
11) Answer: C
The Board of Directors of A.P. Moller – Maersk has decided to appoint Chief Technology & Information Officer (CTIO) Navneet Kapoor to the Executive Board with effect from 1 April 2021.
The appointment is both recognition of the role Technology plays for the transformation of A.P. Moller – Maersk, and the strategic leadership capabilities of Navneet Kapoor.
As CTIO, Navneet Kapoor leads the efforts to build competitive advantage from technology, a central element in the Strategy of the company.
The company is in the middle of a multi-dimensional digital transformation that aims to build a new technology platform offering new digital products to our customers supported by standardized and automated processes across the company.
12) Answer: D
Low-cost carrier and country's largest regional player, homegrown carrier SpiceJet said it has signed a Memorandum of Understanding (MoU) with New York-based Avenue Capital Group, for financing, acquisition and sale and lease-back of 50 new planes.
The MoU sets out the next steps and conditions upon which Avenue, as part of the deal, will assist with placing SpiceJet's new aircraft portfolio.
It includes sale and lease-back of and also the assumption of ownership of potentially up to 50 of these aircraft.
Avenue Capital Group specializes in the field of aircraft leasing and has identified the new planes to be ordered by Spice Jet as a unique opportunity for investment.
13) Answer: B
Government has operationalised 22 new routes in the last three days under the UDAN scheme.
This is part of Endeavour to connect the unconnected regions.
Out of these new routes, six routes have been operationalised in North-East India.
The Regional Connectivity Scheme – Ude Desh Ka Aam Nagrik, UDAN is a flagship scheme of the Ministry of Civil Aviation envisaged to make air travel affordable and widespread in the country.
The scheme intends to boost inclusive national economic growth, employment opportunities and air transport infrastructure development across the nation.
Till date, 347 routes have been operationalised under the UDAN scheme.
The Civil Aviation Ministry said the first direct flight from Shillong, Meghalaya to Agartala in Tripura under the UDAN scheme was flagged off.
The flight operation on Shillong – Silchar route was successfully commenced.
14) Answer: C
On March 28, 2021, Lewis Hamilton won the 2021 Bahrain Grand Prix.
It was held at Bahrain International Circuit, Sakhir, Bahrain.
This was Lewis Hamilton's 96th Formula one Victory.
Bahrain Grand Prix is the inaugural GP of the 2021 Formula one world championship.
About Formula one world championship :
It was Organized by Federation International de L'Automobile.
15) Answer: E
India is to participate in France-led naval drill La Perouse for the first time in the Bay of Bengal.
It will be held from April 5 to 7, 2021.
Australia, Japan and the US (the other Quadrilateral Security Dialogue (QUAD) member countries) will also participate in La Perouse.
This is the first time that the Indian Navy will be part of the France-led war game 'La Perouse'.
Until now, India was not invited for the French naval exercise.
After La Perouse, another important naval exercise, the India-French Varuna exercise, will also take place.
This time, it will also include the United Arab Emirates
It will take place in the last week of April in the Western Indian Ocean.
16) Answer: C
On March 26, 2021, The BPCL sold its entire 61.5% stake in Numaligarh Refinery (NRL) in Assam to a consortium of Oil India and Engineers India and government of Assam for Rs 9,876 crore.
This sale purchase agreement was signed on March 25th, 2021.
Agreement Carried out between BPCL and Consortium of oil india limited.
Oil India (OIL) acquired 39,84,36,929 equity shares, or 54.16% stake in NRL.
Engineers India (EIL) bought 3,21,46,957 equity shares, or 4.37% stake, in NRL.
The remaining 2.29 crore equity shares have been transferred to Government of Assam for Rs 499.99 crore.
17) Answer: D
Cochin Shipyard Ltd. delivers MV 'Sindhu' A 500 pax passengers cum 150 MT Cargo Vessel built indigenously for Andaman and Nicobar Island.
The Protocol signing & handing over ceremony was held on board the vessel at  Cochin Shipyard On March 27, 2021.
This project is a part of a series of Four Passenger vessels comprising 2 nos 500 Pax and 2 nos 1200 pax at a total order value of approx: 1400 crores under the "Make In India" initiative of the Government.
The second 500 pax sister vessel is presently under advanced stage of construction and is also expected to join the fleet in the current year.
The Protocol documents were signed by Capt. Ashutosh Pandey, Director of Shipping Services (DSS), representing A&N Administration and Shri Sivakumar A, General Manager (Ship Building for CSL in the presence of Shri Madhu S Nair, CMD CSL, Directors.
The basic design of the vessel has been developed using world renowned Naval Architects Knud E Hansen of Denmark collaborating with M/s Smart Engineering and Design Solution, Kochi.
This vessel which can cruise at 16 knots is built to the highest standards of the Indian Register of Shipping and American Bureau of Shipping meeting the Indian Merchant Shipping rules and is customized for Indian requirements with very high level of safety and comfort comparable to the international standards.
18) Answer: B
The book of Daribha lyndem titled NAME PLACE ANIMAL THING .
It was Published by Zubaan Publishers Private Limited.
19) Answer: C
On March 28, 2021, All-rounder Thisara Perera became the first Sri Lankan to hit six sixes from one over.
The 31-year-old achieved the feat during his unbeaten 13-ball 52 while captaining Sri Lanka Army in a group match against Bloomfield Cricket and Athletic Club.
It was also the second-fastest half-century by a Sri Lankan in List A cricket, after former Sri Lanka all-rounder Kaushalya Weeraratne's 12-ball half-century for Ragana Cricket Club against Kurunegala Youth Cricket Club in November 2005.
Perera is the ninth cricketer in the world to have achieved this feat in professional cricket, after Garfield Sobers, Ravi Shastri, Herschelle Gibbs, Yuvraj Singh, Ross Whiteley, Hazratullah Zazai, Leo Carter and recently Kieron Pollard.
Perera has played six Tests, 166 ODIs and 64 T20 Internationals.
20) Answer: E
India finished at the top of the medals table at the 2021 ISSF World Cup New Delhi.
It was held from 18 to 29 March 2021 at the Dr. Karni Singh Shooting Range in New Delhi.
India Procured 30 medals which included 15 gold, 9 silver and 6 bronze.
In that USA came second with eight medals including four gold, three silver and one bronze.
Gold Medal Winners
Aishwary Pratap Singh Tomar – Men's 50 metre rifle three positions
Saurabh Chaudhary, Shahzar Rizvi and Abhishek Verma – Men's 10 metre air pistol team event
Swapnil Kusale, Chain Singh and Neeraj Kumar – Men's 50 metre rifle three positions team event
Gurjoat Khangura, Angad Vir Singh Bajwa and Mairaj Ahmad Khan – Men's Skeet team event
Kynan Chenai, Prithviraj Toidaiman, Lakshay – Men's Trap team event
Chinki Yadav – Women's 25 metre pistol
Yashaswini Singh Deswal – Women's 10 metre air pistol
Yashaswini Singh Deswal, Manu Bhaker, Shri Nivetha Paramanantham – Women's 10 metre air pistol team
21) Answer: C
ITI Limited, India's telecom products manufacturing arm, and Thalamus Irwine, a local startup, have come together to develop a technology for storing medical data on blockchain.
They conducted a Proof of Concept (PoC) with as many as 300 patients on March 25, 2021.
It also enabled the Centre's ambitious One Nation One Health Card initiative.
One Nation One Health Card offers a level-playing field and consistency in health records would help to check future pandemics within a matter of minutes through a real-time scenario with distributed ledger technology (DLT)
Both ITI and Thalamus would also conduct the next PoC at Delhi's Indira Gandhi International Airport, and would jointly pitch for the prestigious One Nation One Health Card initiative once launched commercially.
India is one of the few countries to start a blockchain-based health data record system